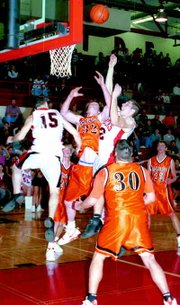 Before all's said and done this winter sports season, the hottest ticket in town may be the price of admission to a Sunnyside High School boys basketball game.
Don't believe it? Just ask someone who attended last Friday's season opening game at home against the visiting Ephrata Tigers.
In a departure from your tried-and-true form of hoops, the Grizzlies put on a display that can probably best be described as a pack of hornets gone wild.
Consider: have you ever witnessed a high school basketball team put up 76 shots from behind the 3-point line? In a single game? How about 106 shots total from the field, again in a single contest?
Well, if you were sitting in the bleachers last Friday, that's exactly what you saw. Deploying a full-court, swarming defense that resulted in swatting away or disrupting 56 Ephrata passes, Sunnyside created turnover after turnover...which led to shot-after-shot by the Sunnyside squad.
And, many of those shots were falling in the opening half, as the Grizzlies took a 36-33 lead into the locker room at intermission. Unfortunately, a large chunk of the barrage attempted by Sunnyside in the second half missed their mark, which allowed Ephrata to make off with a 94-67 victory.
Saturday night at Othello, the outcome was reversed, as the Grizzlies prevailed, 80-77.
"This isn't conventional basketball that people have watched over the years," said third year Sunnyside Coach Steve Urrutia. "I think the kids are enjoying playing this kind of ball. I know we coaches are having fun watching it. I hope those who come to the games enjoy it."
The precis is simple. With the average height on this year's team being just under 5'9", the game plan is to create as much havoc on the defensive side of the ball, base line to base line, as possible. Offensively, with no one taller than 6'1" to pound the ball to inside, the object is to launch up one trey attempt after another...until the opposing team abandons the paint and tries to defend the perimeter.
To keep his players as fresh as possible, and because a tremendous amount of energy is expended on the floor with the unrelenting attack, Urrutia substitutes in waves. Every minute to a minute and a half, a new five-man crew enters the game to spell the five out on the court.
In Friday's 27-point loss to Ephrata, Sunnyside's offensive game plan worked to perfection. "The second half, they pulled out their kids to deter us from shooting 3's," said Urrutia.
Unfortunately, he explained, the Grizzlies didn't take advantage of the open lanes, opting to stay outside and heave up the long-range bombs.
"We've only been working on this system for two and a half weeks," said Urrutia. "Obviously, the kinks still have to be worked out.
"Plus, Friday night, we got tired in the second half. We were forgetting to do some things...like rotating back after taking a shot," he said.
It didn't help any, either, that the Tigers refused to unravel under the tremendous defensive pressure Sunnyside applied. Ephrata turned mainly to Noey Guzman and Reid Forrest, who went off for 32 and 24 points, respectively.
The lone Sunnyside player in double figures was Brandon Coleman, one of only three seniors on the team. He fired in 17 points in the losing cause.
Saturday night, four Grizzlies put up double digits in the scoring column. Junior James Baysinger paved the way with a team high 16 points, followed by sophomore D.J. Palomarez with 13 points, and Coleman and sophomore Justin Bos with 10 apiece.
Othello got double-digit scoring from Caleb Tovar, J.J. Suarez and Gabe Cantu with 18, 15 and 14 points, respectively.
Sunnyside, for the most part, maintained a slight advantage over the Huskies throughout Saturday's game, but had to ice the game from the free throw line in the closing seconds. Palomarez came up big down the stretch for Sunnyside, hitting 3-of-4 free throws to help keep Othello at bay.
Palomarez was called up from the JV on Saturday because three of the varsity players had to miss the game because of a wedding.
"The coaching staff was impressed with D.J.'s play," said Urrutia. "He's making it hard not to bring him up (to the varsity)."
The Grizzlies (0-0, 1-1) are scheduled to play another non-league game this Tuesday against visiting Hermiston. This coming Friday Sunnyside will trek to Grandview.
Urrutia said the word has gotten out that Sunnyside is introducing a new brand of basketball, evidenced last Friday by the numerous prep scouts who were in the stands to get a first-hand look at the Grizzlies.
"It will be a work in progress, but I think it's going to be fun to watch," he said.
Friday
Ephrata 17 16 21 40 -94
Sunnyside 16 20 14 17 -67
Ephrata: Noey Guzman 32, Reid Forrest 24, Micheal Patigan 10, Aaron Lutz 10.
Sunnyside: Coleman 17, Montelongo 6, Briones 6, Simmons 2, Sambrano 3, Engel 4, Jongsma 7, Cornelius 3, Burgueno 3, Baysinger 7, Bos 9, Swinehart 0.
Saturday
Sunnyside 30 15 19 16 -80
Othello 27 17 21 12 -77
Sunnyside: Baysinger 16, Coleman 12, Palomarez 13, Briones 9, Sambrano 0, Swinehart 3, Espino 5, Bos 12, Engel 0, Jongsma 2, Cornelius 8.
Othello: Caleb Tovar 18, J.J. Suarez 15, Gabe Cantu 14.