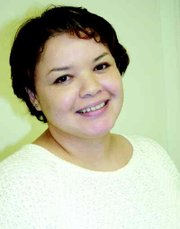 Laura Ramirez, licensed insurance agent at the Ron Sidwell Insurance Agency in Sunnyside, came to her job after exploring options internationally, so to speak.
After graduating from Mabton High School in 1994, Ramirez did what a lot of graduating seniors do. She took a trip.
"I had the ticket to Mexico, but I stayed a year," she said. "I knew the language. I had relatives there. I thought, "I can do this!' So I stayed. I spent some time with relatives there. I helped teach kids who wanted to learn English, and Mondays through Fridays about five o'clock each evening I helped adults learn to read."
The government program that provided the learning experience was short of volunteers in Manzanillo, a port city in the smallest state in Mexico, Colima, so Ramirez received a small reimbursement for her services.
"I think it was $50 a month," said Ramirez, who stretched her graduation trip to about 10 months.
The fiestas, especially the one surrounding Mother's Day, celebrated on May 10, appealed to Ramirez.
"Each little town had its own fiesta, but the Mother's Day one started on midnight of May 9 and went the whole week," said Ramirez enthusiastically. "Young people would get together to go round to serenade mothers and parents while it was still dark. Maybe one would have a guitar, another a trumpet. Before you knew it, you had a whole mariachi band. At the very last house, we'd be invited in for tamales, hot coffee and hot chocolate. And everybody would be there, with music, eating food and watching the sun rise."
Close family-her mother, Eva Garcia, and brothers and sisters-were the drawing card that brought her back to Sunnyside, where she took up studies at Yakima Valley Community College until a car accident put her totally out of commission with back, hip and leg injuries.
"I was at my lowest point then," said Ramirez. "I stopped work, stopped school. I couldn't do anything."
Then, just when Ramirez could finally jump 3 inches off the ground, along came a blessing in the guise of Robert Fernandez, a Sunnyside High School graduate she'd known from school days.
She said Fernandez was living and working for a hotel in California, and he convinced her that Santa Monica was exactly what she needed at that time.
"He said I was going to like it down there and that I had the personality for the job," said Ramirez.
She heeded his advice and went south, along with another Sunnyside grad and friend of Ramirez's, Nena Arriaga. Ramirez interviewed two days after she arrived and was hired the next Monday as a VIP and special services coordinator for Sheraton and Fairmont.
The three became roommates, and Ramirez met the man who was to become her husband.
When she and Oscar Romero married, they moved to Nebraska. They returned to Sunnyside just a year ago in October.
And that's when she fell into the job as an insurance agent in Ron Sidwell's office.
"He called my sister to offer her the job, but she was already working," said Ramirez, who picked up on the opportunity to carry her resume into the office.
"And it just took off from there," she said.
"Now I'm a licensed insurance agent," she said. "I do a lot of translating, write policies, turn in claims, maintain files and deal with everyday issues and answer any questions clients have," said Ramirez.
She has been working at the office for seven months, starting as a part-time employee and working her way through the licensing process from March to June 2005.