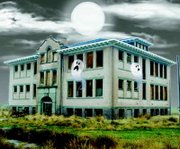 Every area has its urban legends and ghost stories that get passed on from generation to generation. The Sunnyside area is no different.
The stories that are widely known can usually be easily discounted but what about the ones that aren't that widely known? Those are the ones that may seem to have some credibility.
There are a few well known urban legends around here. In Prosser, near the intersection of Crosby and Rothrock, there is a place known as Gravity Hill.
High school students come here to park their car. There is a stretch of flat ground the kids go to and when they put their car in neutral, it is said the vehicle will slowly move backwards. Why?
There are a couple of theories as to why this happens. One is that a school bus crashed in the area many years ago. The story goes that the ghost of these children hide in the tall weeds until someone comes to park their car. When the car is parked the kids come out and push the car.
Where they are pushing the car is unclear. The kids could be trying to help or, trying to get the unsuspecting inhabitants of the car to come and join them in the tall weeds.
According to Detective Blackburn of the Prosser Police Department, no school bus has ever crashed in the area in question and he knows of no deaths of any school children.
As far as the other theory, a girl who was assaulted and killed on the hill, the detective says that never happened either.
"Gravity hill is a place where high school boys take girls to try and impress them," he said.
He explained what makes the car move backwards is an optical illusion. "It looks like you're on flat ground but in reality, you're on a slight incline."
Ildia Jackson, city administrator for the city of Mabton, remembers some of the scary stories she heard when she was a kid.
Her memory of the 'swamp lady' is a little sketchy. "I just remember that if you were to go down to the river by Cherry Hill in Granger and chant, 'swamp lady, swamp lady, I have your baby,' supposedly a lady dressed in white would float towards you looking for her baby."
Legend has it that a woman crashed her car somewhere on Cherry Hill and she drowned in the river, along with baby. The swamp lady was doomed to search the area looking for her child.
A similar story that's got a lot of mileage is of the lady haunting the area around Granger's Indian Church Road. She has been seen, some say, near a church on this road. People crossing a small canal have reported seeing her.
Officer Mike Britton of the Mabton Police Department remembers a time when a police officer drove by that canal and saw a women on the road holding her baby. Britton said the officer turned his car around and went back to where he had seen her but she was gone. Thinking she had jumped into the canal, he started looking for her. When he couldn't find her he called for back-up.
"Several officers responded but no one was able to find her," Britton said. "The officer was quite upset when another officer told him not to worry about it, that this has happened before."
Britton also remembers a time when he was in a store parking lot in Mabton when a man drove up to him very fast.
"The man told me he had seen a woman on Hwy. 22 crying very hard carrying a baby." Britton thought she might be a victim of domestic violence and drove out to the area to look for her. "I looked all over the place but I couldn't find anything. It wasn't until I got back to Mabton that I remembered the story of the lady."
Britton doesn't know if the man was pulling his leg or not. He said the guy looked very worried and was from out of town. Not someone who would be familiar with the legend.
Britton and Jackson have other strange tales about what goes on in Mabton. They've both had experiences in City Hall, where they spend a lot of time.
Word has it that a Mabton Police Chief committed suicide a very long time ago. Some say he killed himself at his home and others say he did it in the police department that used to be housed in the upstairs of the City Hall building. One thing people do agree upon, strange things do happen in that building.
"I"ve heard doors slamming when I've been working there late at night," Jackson said. When she gets up to check out the noise, there is no one there. One time Britton said he was getting ready to leave for the night and as he was locking up, the toilet in the bathroom flushed. As he was the only one supposed to be in the building, he waited for the person to come out. When no one did, he checked out the bathroom but no one was there.
Another time Britton heard a huge crash come from somewhere upstairs. "It was a very loud crash that shook the building," he said. When Britton and another police officer checked the upstairs area out, nothing was disturbed, not even the dust.
Britton and Jackson are not ready to admit there is a ghost in the City Hall building but both agree some strange things do happen there late at night.
The old Mabton High School is another place where some strange things have happened.
The old high school stands down the road from the new school. An old four-story building with boarded up windows, the place is spooky.
"We come down here a lot to keep the kids from prowling around here," Britton said.
Kids like to come to the old school out of curiosity or on a dare. Some believe the place is haunted. Britton told of a time when two police officers went into the building at night to check out a report of kids prowling around the area.
"When they were in the basement their flashlights went out," he recalled. "They had to feel their way out of the building because it was so dark. When they got back to the car, both flashlights started working again."
Another time two other deputies were in the building checking out a prowling report. Both officers could smell something terrible when they heard a terrible scream. "They said it didn't sound like any kind of animal or anything human," Britton said. They couldn't find anything and one of the deputies said he would never go into that building again."
It's these kinds of stories that peak the interest of a group that calls themselves the Northwest Ghosthunters. Based out of Molalla, Ore., the group takes a scientific and skeptical approach to proving the existence of spiritual hauntings and other paranormal activity.
The founder's name is Dave and he didn't' want his last name used.
Dave says he had some experiences with ghosts when he was a child.
"We had a poltergeist in my house when I was younger," Dave said. This ghost would run around the house, open the gates outside, throw pots and pans around the kitchen and turn the water on.
"He would open the gates at 3 a.m. every night," he said. Dave's parents had a priest come into the house and bless it and they didn't have any problems after that. But the experience never left him.
Dave, who has his own internet business, started Northwest Ghosthunters about six months ago. "It's something I've always been interested in and when I found some other people who were interested, we thought we would give it a try."
At first they put up a website to see if anyone out there would be interested and when they started getting requests to come and check out people's houses, they went.
"Most people just want some type of proof to what they are experiencing," Dave said. "They want proof they aren't crazy."
Dave said they had one request to come and get rid of a demon that was possessing a man. "We were told this man had no legs and the demon would flip him around the room. A priest tried to splash him with holy water but the water would stop in mid air. We declined to come out and check this case out. We're not priests and we don't try to get rid of ghosts, we just try to capture evidence."
He said smells are quite common when investigating hauntings although he admits he's never heard of such a strong odor described by the police officers when they went into the old high school in Mabton. Batteries being drained are common too, which might explain why the officer's flashlights went out in the old high school.
"We've had brand new batteries go dead on us in places but when we got back home and checked them out, they were fine," Dave said.
When the group goes out on a case they go with an open mind.
"We try to go in with a skeptical approach," Dave said. "If anything happens we try to debunk it but every once in a while there is no way to explain what happens."
One case the group did was at a private residence in the Portland area. One of the group's members kept having drops of water fall on him when there was no skylights or other possible leaks in the ceiling. Their digital voice recorders would keep pausing even though there was no pause button on the machine.
Two members heard a very loud and strange moan in the house when all of the other team members were outside and accounted for. A dark shadow of a figure was seen in the hallway but the cameras didn't capture this because they had mysteriously been turned off. Thermometers kept giving off false readings around the house too.
They didn't capture any physical evidence but the personal experiences of the group was too much to just dismiss. On a scale of 1-10, they gave this house a 5 1/2, in terms of the odds that the house was occupied by ghosts.
Dave said the group has not had a case yet where they believe the place is definitely haunted but they are still looking.
Their next case will involve a house in St. Helens, Ore. The house was built on an old Indian burial ground. It has been vacant for 10 years now and the last four people who've bought the house have died within two months of purchasing it. Under very mysterious conditions, according to Dave.
The current owner of the house sometimes sees a man at the top of the stairs when she enters the house but when she goes up the stairs to get a closer look, he disappears.
"The current owner is going to have the house blessed after we go through it," Dave said.
Dave said the group's schedule is pretty full until the end of the year but people around here might see them sometime in January. Dave seemed very interested in the strange happenings in Mabton.
Until then, if you drive by the old church on Indian Church Road, don't look in your rearview mirror when you cross the bridge over the canal. It's said if you do you will see the ghost of a woman in your back seat staring at you.