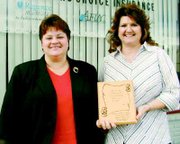 GRANDVIEW - Gaylene Tucker and Becky Ruppert of Consumers' Choice Insurance were selected as Grandview's "Volunteers of the Year" for 2005.
The honor, announced during a recent Chamber of Commerce awards banquet, was the result of Tucker and Ruppert's leadership in heading up the community parade this past August.
Held in conjunction with the Yakima Valley Fair and Rodeo, this year's parade included 99 entries stretched out on a route more than a mile in length.
"They really excelled as co-chairs of the parade," said Chamber Manager Lynda Jo Gross. "It's challenging to find someone willing to take on the task of coordinating the community parade. So much is involved with it that most people shy away from it."
Tucker said they began planning in April for the parade, their first, dedicating Fridays as "parade day."
Ruppert figured they probably put in about 200 hours on the project, but the effort wasn't about counting hours or community awards.
"The look on people's faces when they saw the parade was worth it," Tucker said.
There were pitfalls from previous parades that the pair tried to avoid. The biggest challenges came at the beginning and end of the parade.
"We took a lot of lessons from the past and had volunteers in place to feed floats in and out of the parade route as smoothly as possible," said Ruppert.
Past years have also seen problems with traffic congestion at the end of the parade route. This year, they explained, help was sought and received from the Grandview Police Department to disperse the floats as they came off the parade route.
"The police were a real help and very much appreciated," added Tucker.
The pair also praised the support and patience of their husbands, Kirk Ruppert and John Tucker.
It looks likely that the husbands will have to be supportive for yet another parade as Ruppert and Tucker appear set to organize the 2006 parade.
"We've just now recovered from this year's parade," Ruppert laughed. "When it was finished we said never again!"
But community volunteerism is calling again.
"We've been told by a lot of people that if we signed up again they would help with the parade," Ruppert said. "So we're thinking it'd be fun to take on the parade again."
Going above and beyond, even organizing nearly 100 parade floats, is nothing new for the pair, who are involved in chamber of commerce events throughout the year, such as last Friday's "cocoa and carols" event.
"I guess that's just the way we are," chuckled Tucker. "Why dip your toe in the water when you can go all the way in and give it all you can?"