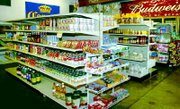 Long time Sunnyside resident Tony Magana has taken over Swan Market on Harrison Hill and re-opened it.
Magana had been running a restaurant and nightclub with his brother in Grandview when he decided to give the market business a try. He has been open since Oct. 1.
Magana is leasing the market with an option to buy and he hopes by the beginning of 2007 he will be able to purchase the building.
When asked if running a market was easier than a restaurant/nightclub, Magana replied, "any business is tough when you start out. You have to let people know you're here and you have to be patient, plus having the right attitude. It gets easier with time but it's still hard."
Swan Market is mainly a convenience store but Magana also sells fresh meat and produce. Right now he only sells beef but by next spring he plans on offering pork, chicken, fish and seafood. Magana said he offers a cheaper price on his produce than most stores in town. He says he can do this because he contracts with a company in California year round and that keeps his price down.
He says most of his customers are from the Outlook area and residents of Harrison Hill. "They can come here in case they forget something from the store or if they don't want to go all the way into town to pick something up."
Magana sells the regular convenience hot food like pizza pockets, corn dogs and burritos but on Friday, Saturday and Sunday he sells carnitas and fresh pork rinds. He only sells these items on the weekend because so far those are his busiest times.
"Business is not too bad," he said. "It's slow but we're making it. I like it and I think it's going to a good place once we get it going."
Magana plans to start off small but by spring he will be in full swing. "With the help of the community," he added.
Swan Market is open seven days a week, 8 a.m. to 8 p.m. Sunday to Thursday and 8 a.m. to 10 p.m. on Fridays and Saturdays.