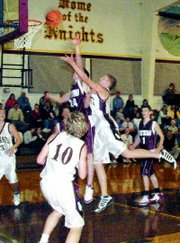 Sunnyside Christian senior Chad Den Boer scored his 1,000th career point Tuesday night in a Knights' 64-46 win over Kittitas.
"That's a neat thing for him," said Sunnyside Christian Coach Dean Wagenaar.
Den Boer tallied 26 points to lead Sunnyside Christian in scoring.
Den Boer also grabbed six rebounds.
Senior Matt Haak added 16 points and three assists.
Despite the win, Wagenaar said he was not pleased with the team's performance.
"I was disappointed last night with our play," he said. "We missed too many good shots."
Wagenaar said his team missed several easy looks down low, and his team can't do that if they expect to repeat last year's success of winning a State B championship.
"In a game like that, you need to make those shots," Wagenaar said.
He also said his team didn't protect the ball well. While the Knights only turned the ball over three times in the first half, which Wagenaar said he can accept, the Knights turned the ball over another seven times in the second half.
"If these kids want to have a shot to play in Spokane," Wagenaar said, "those things need to be corrected."
On the offensive side, sophomore Joel Koopmans contributed to the scoring effort. Koopmans dropped in 13 points and added seven rebounds.
Aaron Van de Graaf scored three, and Nick DeJong and Justin Burgers each had two points for the Knights.
Kittitas sophomore Brent Fletcher scored a team-high 16 points in the Coyotes' loss.
"He played pretty well," Wagenaar said of Fletcher.
Kittitas' Luke Leeton had 13.
"They were a lot better," Wagenaar said of Kittitas. "They're working a lot harder."
Despite his criticism of the team, Wagenaar credited Koopmans and Haak for their strong play.
The Knights travel to Benton City Friday night for a game with the Bears.
Kittitas 9 13 7 17 - 46
SCHS 15 16 17 16 - 64
SCHS : Den Boer 26, Haak 16, Van de Graaf 3, Koopmans 13, DeJong 2, Burgers 2.