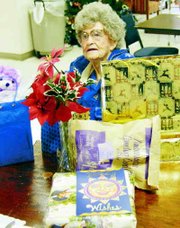 Birthday gifts and song greeted Jessie Frazier as she entered the Sunnyside Senior Center yesterday. Her friends at the daily nutrition meal were honoring Mrs. Frazier on her 104th birthday.
Her only concession to 104 years of living was to use a walker Tuesday as she disembarked from the People for People bus, which takes her to the center at least four times a week to enjoy a hot meal with friends and to play dominoes.
Mrs. Frazier is a former Sunnyside fourth grade teacher.
"I taught school for 16 years. I love teaching and I like children. I never had trouble with discipline," said Mrs. Frazier. "The children and I all worked together. I liked them."
A widow, Mrs. Frazier has two daughters, Sharon Upton of Yakima and Mary Embree of Sunnyside, with whom she lives.
"My family has been my greatest joy," she said. One of nine children, she said she is the only one left.
"I was born in Illinois and we came west to Red Lodge, Montana," said Mrs. Frazier. "Then I came to the Valley to teach. I taught four years in Toppenish first."
Of all the changes she's seen over 104 years, she remarked on only one: "People are a little bit careless about marriage and that sort of thing. We were much more strict when I was a girl."
She agreed to impart her own recipe for longevity.
"Just trust in God. He's been good to me."