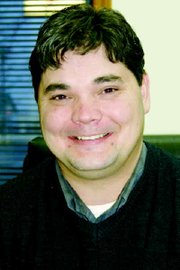 Take one college graduate, shake him up at a job interview and send him off to a small town when he was intending to make it big in a big town and what do you get?
A chairman of the Sunnyside lighted farm implement parade and the assistant vice president of American West Bank!
Ten years ago, Jeff Norem was the wet-behind-the-ears graduate of Eastern Washington University with his eye on a big city job. Then he got broad-sided.
"In the interview it came out that my wife, Becky, was a Mabton hometown girl, and I had the choice of a job in Spokane or one in Sunnyside," said Norem.
While, at the time, it meant giving up a dream to put his wife closer to her parents in Mabton, Norem says today, "I'd do it in a heart beat. This town has its own character and weather, and there's no commuting, no traffic."
But what really convinced him that he made the right decision 10 years ago was the loss of his father-in-law a year ago. Because he and Becky live close by in Zillah, their 3-year-old daughter had time with her grandfather that she might not have had if they were Spokane residents. "And our children still have grandma," said Norem, who has a 9-month-old too.
The Norems have settled into their adopted niche so well, they plan to move to Sunnyside "before the baby gets into kindergarten, we hope," Norem said.
When he first came to Sunnyside, he saw something that he knew he wanted to be a part of.
"When I saw the lighted parade at Christmas, I did want to be part of it. I asked, and became part of the committee," said Norem, who has chaired the committee for the past two years.
He says, with a laugh, that he doesn't do it for the money (he gets none), but he does realize a kick-back. "Really, I get the joy of watching a great event and being part of the community.
"It's about seeing smiles on kids' faces and seeing 15,000 people show up to watch all these farm implements drive down the streets of Sunnyside. That parade is the kickoff to Christmas spirit. I've always loved Christmas, and part of my Christmas experience now is the parade," he said.
For the past 17 years a committee of seven to 10 people plan and organize the parade that not only brings thousands to town, but has captured national interest and been the model for copycat cities who have adopted the after-dark parade theme and made it sparkle with their own brand of lights.
But even Sunnyside's parade is a copy.
It started as a seed in the imagination of a guy who watched lighted boats floating down a river.
"He watched the lighted boats and said 'I bet we can do that. We can have lighted farm implements drive down Sunnyside streets.' It's kind of a strange idea, but he pulled it off," said Norem.
And volunteers in town have been pulling it off ever since.
One of the pluses of being part of the parade committee, Norem said, is serving as one of the 18 judges who get a preview peek of the entries.
"We go around before the parade and look at all the entries before anyone else gets to see them," said Norem. "When I see them all lined up on Warehouse Avenue, I think of all the time and effort and cost and I'm humbled by the efforts of all these people to put a smile on a kid's face. At no cost to the committee or the community, these people give a piece of themselves for the whole community to enjoy."
The only cost the parade committee has, Norem said, is the advertising it does to make the public aware of the annual event that grows larger with each passing year.
"We try to hit all the major media from the Tri-Cities to Yakima," said Norem. "And we've been well received by the media who likes what we are trying to do. Most of the media give us a break, some as much as $10,000 worth of advertising for $1,000. It makes it easier, it really does."
Community businesses jump on board with $100 sponsorships that buy the awards that go to the winning entries. Other businesses pitch in a bigger chunk of change, businesses like American West Bank and the Port of Sunnyside, which donated $1,000 each this year, and Sunnyside Community Hospital, which donated $2,500 to be the presenting sponsor this year and has committed to a five-year sponsorship.
"The Chamber of Commerce is highly involved with the parade. The chamber gives $3,000 that helps with the advertising, and provides a representative on the committee," said Norem, who also pointed out the many hours that volunteers like Jim Warren, past chair of the committee, have provided over the years.
"Jim Warren has been giving his time to the parade longer than I've been here and has been chairman the majority of the time. I can't say how much I appreciate him," said Norem.
Through the efforts of this small committee and all the people they've captured with their enthusiasm, the lights of about 65 entries shone brightly along the parade route. Now they are dimmed until next holiday season, but the spirit they ignited lingers on.
And Jeff Norem will be the first to tell you that he's mighty glad he took the road to Sunnyside 10 years ago.