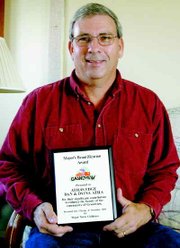 GRANDVIEW - There's no curbing Dan Atha's enthusiasm for community volunteerism, as the Grandview man received the city's 2005 Beautification Award from Mayor Norm Childress.
The only community award personally bestowed by the Mayor, the beautification award was presented during a community awards banquet by Childress to Atha, of Atha's Edge, and his wife, Daina.
"City resources are low at this time and contributions to improve the City are greatly appreciated," Childress said of Atha's efforts to provide concrete curbing around town. "Many good projects do not get done due to the lack of funds," added Childress.
The Mayor said Atha donated materials and labor for decorative concrete curbing during the Yakima Valley Junior Fair and Rodeo in Grandview. "Dan also contributed to construction of the Dykstra Park Bridge project," Childress added.
Atha's curb improvements during the fair actually started with a desire to demonstrate his product. "I thought that instead of having all these small samples of curbing, I could just put on a demonstration and benefit the fairgrounds," Atha said.
Flower beds at the entrance to the fairgrounds received a decorative curb trim as part of Atha's efforts to improve Grandview's curb appeal.
"We (he and wife Daina) were surprised to get an award from the mayor." said Atha.
Other areas where Atha's handiwork can be seen around Grandview include the new home sites on Fifth Street.
But Atha said he doesn't volunteer his time and services to gain attention or awards.
"I love my community here, we love it here," he said. "I'm happy to do anything to help."
Atha praised the new community pride he sees in Grandview. He credits public outreach efforts such as beautification awards to individual home owners for keeping up their yards.
He also praised city government for tightening statutes, such as forbidding people to park their cars in their yards. A habit that used to be common in the city, Atha noted.
"There are a lot of neat projects and they just bring pride to the city and upgrade the whole area," Atha said.