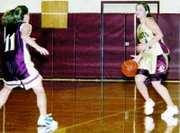 The Lady Knights' defense took over the game last night as the Sunnyside Christian girls basketball team beat up on Kittitas by a score of 73-34.
"We pride ourselves on rebounding," Sunnyside Coach Al Smeenk said. "We work hard on them."
The Knights out rebounded Kittitas 25-19. Brittany den Hoed grabbed 10 of them. "Anytime you can get into double figures in rebounding, you've played a whale of a game," Smeenk said.
The Knights used a man to man defense to smother Kittitas' offense and jumped to a 19-8 first quarter lead.
"We never pressed on defense but they did," Smeenk said.
The Lady Knights easily defended Kittitas' press and by halftime they held a commanding 34-12 lead.
"Kittitas has a girl who's been one of the best in the state the past couple of years," Smeenk said. "I assigned Courtney Rice to her and she did an excellent job on her."
Rice held Kittitas' Stephanie Misslin to just nine points in the game.
The Knights let their defense lapse a bit in the third quarter which led to some easy baskets for Kittitas. Both teams scored 17 points in the third quarter but the Knights' lead was just too much to overcome.
In the fourth quarter the Knights played everyone, including some JV players, to outscore Kittitas 22-5 in the final quarter.
Melanie Van Wingerden scored 6 points in the final quarter.
"They played excellent," Smeenk enthused. "We pride ourselves on our defense and our rebounding."
Smeenk said when those two things click, their offense will come together.
Brittany den Hoed scored 20 points and had 10 rebounds. Emma Newhouse and Emily Hernandez added 16 points apiece.
The Lady Knights take on Kiona-Benton on Dec. 9.