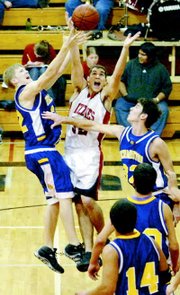 Outscoring Sunnyside 45-15 in the second half, the Hermiston Bulldogs rallied for a 78-49 non-league victory over the Grizzly boys basketball team last night.
Sunnyside scrapped its way to a 34-33 lead at the half, with sophomore D.J. Palomarez leading the way by dumping in all 8 of his points in the first two quarters.
After intermission, though, the Grizzlies made just 11 percent of their shots from the floor, hitting 5-of-46 field goal attempts. That included a 1-for-30 effort from beyond the 3-point arc.
For the game, Sunnyside attempted 82 shots from the field, 15 more attempts than did the Bulldogs. But with an overall success rate of making just 17 percent of its shots, Sunnyside was no match for Hermiston, which canned 35-of-67 shots (52%).
Aaron Albee, a 6'5" sophomore, paved the way for Hermiston with a game high 22 points. He scored 11 of his points in the second quarter, when the Bulldogs cut Sunnyside's first quarter 19-11 lead to 34-33. Also in double figures for Hermiston were senior guard Ricardo Amezcua with 17 points, and two sophomore guards - Sam Grogan and J.J. Ross - each of whom popped in 12 points.
In the losing effort, senior Derrick Simmons was the lone Grizzly to score in double figures. He knocked down 10 points with a pair of 2-point field goals and six free throws. Pumping in 9 points for Sunnyside, on three bombs from behind the 3-point line, was sophomore Jessie Montelongo. Palomarez and senior Brandon Coleman each added 8 points for the Grizzlies.
Sunnyside's newly implemented offensive attack-which relies on creating turnovers with a swarming, full-court defense and is contingent on putting up more shots than the opposing team-worked well in the opening half.
However, after intermission the Grizzlies had little left in the tank.
"We need to be in better condition to run this type of system," said third year Sunnyside Coach Steve Urrutia.
"To be honest, the first three weeks of the season we've been more intent on teaching the system to the kids than worrying about their conditioning.
"That will change.
"By the end of the season we hope to be a lot fresher at the end of each game than we were last night," he said.
"But one thing you can say about last night's game, is that the kids didn't give up," Urrutia continued. "The kids are staying positive."
Sunnyside (1-2) continues its non-league schedule this coming Friday in Grandview. Next Tuesday, the Grizzlies will host Ki-Be.
Hermiston 11 22 18 27 -78
Sunnyside 19 15 9 6 -49
FG-Hermiston 35/67, Sunnyside 14/82. 3-pt. FG-Hermiston 1/4, Sunnyside 8/59. FT-Hermiston 7/20, Sunnyside 13/23.
Hermiston: Amezcua 17, Smith 2, Grogan 12, Albee 22, Zweifelhofer 3, Ross 12, Eldrige 4, Alatorre 2, Murray 2, Frost 2.
Sunnyside: Coleman 8, Montelongo 9, Briones 5, Simmons 10, Espino 1, Palomarez 8, Engel 1, Jongsma 0, Cornelius 3, Burgueno 1, Baysinger 0, Bos 3.