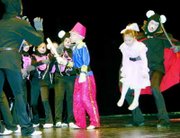 A traditional holiday dance performance will be given a new twist in Sunnyside this weekend. "We will be doing a production of The Nutcracker All Jazzed Up," said Teri Lain, studio manager for Martin's School of Dance.
"It is slightly different from the normal show. Most of the productions you see with The Nutcracker are all generally ballet versions, but ours has a very jazzy style to it and more than just ballet dancing. We also have clogging, jazz and Irish dancing," she said.
However, Lain has not forsaken the tried and true traditional characters that have pleased audiences over the years.
One of the most popular, Mother Ginger from the Nutcracker's Candyland sequence, will make a spectacular appearance this year.
Mother Ginger is traditionally a 10-foot tall figure, usually played by a man, from under whose skirt pop out dancing cupcakes and gingerbread folks.
While Sunnyside's Mother Ginger will be about three feet shy of the traditional figure's height-partially because she will be seated-she will still be an imposing character atop a four foot platform, which will be disguised as the voluminous skirt that hides the dancing figures.
"This year's production will also include two new dances to our line-up," said Lain. "We'll have the traditional Trepak from Tchaikovsky and our own addition of Bavaria."
After a lengthy rehearsal schedule, the troupe put the polishing touch on its performance at a final dress rehearsal last night. The dancers are now ready for the shows that will be presented Friday, Dec. 9, at 7 p.m. and Sunday, Dec. 11, at 3 p.m. Both performances will be held at the Sunnyside High School auditorium.
Martin's School of Dance in Sunnyside provides instruction to children and adults.