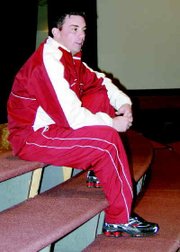 Donnie Marbut has played a lot of positions in his life: point guard, quarterback, defensive back and second baseman, just to name a few.
But Marbut has been enjoying life in another position in recent years: Coach.
Marbut is the head baseball coach at Washington State University. The 31-year-old Aberdeen native shared some of his life wisdom with Sunnyside High School students Wednesday, telling them they can acheive their goals if they really want to.
"The only person who's going to stop you from doing what you want to do is you," he told members of the high school leadership class and baseball players gathered in the auditorium.
Marbut told students that education is a big key to acheiving those goals, whether that be at a four-year college, a junior college or even a trade school.
"Do something," Marbut told the students.
And he knows what he's talking about. Marbut became the baseball coach at WSU in 2004. Prior to that, he was an assistant coach in high school and college before taking a head coaching position at Edmonds Community College where he compiled a record of 152-38.
Before Marbut ever became a baseball coach, he had different aspirations. He wanted to teach.
But a stint as a student-teacher for second and third grade students changed his mind.
"I didn't like sitting behind a desk all day," he said. "I'm not a nine-to-five guy."
He had plenty of opportunites to do other things, too.
Marbut was recruited to play football, basketball and baseball in college.
He said he even paid a visit to Boise State University, which was the only Division IA school to actively recruit him as a football player.
But Marbut decided on baseball, something he said he loves.
Of course, that was after he said he had changed his mind on what he wanted to do for a career 10 times.
He wanted to be a lawyer, broadcaster and doctor before deciding to major in sociology.
Marbut said a lot of people decide on careers based on how much money a person in a given field makes. While speaking with students, he asked if any knew what they wanted to do for a career.
"If you change your mind I won't be surprised," Marbut said "It's not the end of the world."
He also fielded questions from students about how to deal with parents who may not be thrilled with a career choice they make.
"I think you just have to let them know that it's what you want to do," he said.
Marbut's parents were split on his decision to become a baseball coach. He said his mom was very supportive, but he and his dad didn't talk for months after he'd made the decision.
Growing up, Marbut said he delt with a lot. Grays Harbor County has high levels of alcoholism and suicide, he said, along with a depressed economy so he knew he had to get out.
Despite the conditions, he said he loved growing up there and wouldn't change anything about his childhood. Well, maybe one thing.
"When I was growing up all I wanted to do was play sports," he said. "I turned into that guy that was just a jock. I wish I would have done things differently."
But Marbut is glad he made the decision to go into coaching.
"I love doing what I do," he said.
He said his wife, Jen, doesn't like it as much because she has never played team sports.
"My wife has never been on a team in her entire life," Marbut said.
That means when he's on the road, it's hard for her, especially because the couple has two young daughters, Avery, 3, and Olivia, 1. And he's on the road a lot.
Aside from the fact that Marbut is away from his family a lot, he said it's what he wants to do, and he said he thinks that's something everybody needs to at least try to do with their lives.
"Do something that you love," he said.