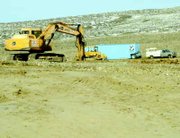 As part of an ongoing project, Sierra Engineering is set to have Lang Drilling start work on its second natural gas well north of Sunnyside Dec. 19.
The well, dubbed the Anderson 11-5 well, is located roughly eight miles north of Sunnyside on Hwy 241. Approximately 3/4 of a mile past milemarker 17 is a gravel road that heads west to the site.
"This is the second well of a three well project," Bill Delahoussaye, onsite supervisor and representative for EnCana Oil & Gas, said. The Daily Sun News reported on the first well being drilled near Mattawa Oct. 31, 2005.
Delahoussaye says he has no idea where the third well will be located.
On Dec. 19, a 45-foot hole will be drilled and a 40" piece of steel casing will be put into the hole. "That's all we'll do until late February," Delahoussaye said. "That's when we'll move in the big drill if one is available."
Delahoussaye said they plan on drilling 15,000 feet and it could take anywhere from 2 to 4 years before they will know if there is enough natural gas to make it all worth it. If there is, more wells will almost certainly be drilled somewhere down the line.
The City of Sunnyside will supply the water for this project.