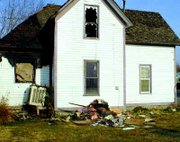 Fire destroyed a two-story home at 625 South 9th Street in Sunnyside in the early morning hours Saturday, but all of the residents escaped without injury.
"The occupants discovered the fire shortly before we were dispatched at 1:08 a.m.," said Fire Chief Aaron Markham. "And they were out of the house when we arrived.
"The fire originated in the kitchen and was discovered by the occupants. They smelled smoke and ran downstairs. Smoke was halfway down the walls and they saw a glow in the laundry area," said Markham, estimating that there were six or eight residents in the house at the time of the fire.
According to a Sunnyside Police report, officers there received the report at 1:05 a.m. Saturday morning from Kimberly K. Martinez, who said her house was on fire but that everyone was outside.
"When we got there flames were shooting out a south window, the kitchen window. The flames burnt up the wall and caught the roof on fire. It was a shake roof, and they burn fast. We put it out rather quickly," said Markham. "But it took us an hour or better to look for hidden fires. We pulled down some of the ceiling and stripped all the wood shakes off the roof to be sure there were no shingles smoldering underneath."
Chief Markham said he returned later in the day to check for possible causes of the fire.
"The fire started really low to the ground, but there was nothing in the immediate area to indicate a cause. There are two possibilities, maybe something placed too close to a wall furnace caught fire or a malfunction in a light switch in the kitchen, but it was caused either by an accident or a malfunction of some electrical equipment. The wiring was really old. We are not investigating it further," Markham said, adding that his department would work with an insurance adjuster, who would be the one to decide if the house could be remodeled.
"But it was pretty much completely damaged, if not from the fire itself, at least from the heat," said Markham.
The evacuated family spent Saturday night with friends, but by the next day the American Red Cross was helping them locate a house to rent, according to Markham.