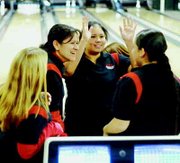 Junior Veronica Uribe rolled the high two-game series on the day, but it wasn't enough to spark the Sunnyside High School girls bowling team to a win over visiting Moses Lake Thursday afternoon.
Uribe opened with a 153 in Sunnyside's 685-633 loss to the Chieftains. She increased her score to a 166 in game two, but receiving little support from her teammates, the Lady Grizzlies fell 771-595.
Moses Lake won the two Baker games, as well, by scores of 166-124 and 165-140 to post a 4-0 sweep over Sunnyside. Baker games consist of each member of the five-girl squads alternately taking turns throughout the 10 frames.
Unlike most prep girls bowling teams, Moses Lake implemented a wholesale substitution when game two rolled around. A new five-girl squad was inserted into the line-up for the second contest.
In the opening 685-633 win for Moses Lake, the Chieftains' line-up consisted of Emily Ozolins (172), Danelle Hofstetter (168), Dawne Drummond (137), Stephain Dodge (104) and Missy Wambaugh (104).
In game two, Moses Lake went with Michelle Reynolds (173), Sarah Roughtar (171), Susan Kroma (157), Virginia Valdez (146) and Sandy Smith (124).
Sunnyside's game one scores, besides Uribe's 153, included a 130 from Veronica Alvarez, a 125 from Tiara Moon, a 122 from Maribel Rodriguez and a 103 from Veronica Tlatelpa.
Following Uribe's 166 in game two were a 126 from Moon, a 118 from Rodriguez, a 100 from Alvarez and an 85 from Tlatelpa.
Thursday's 4-0 defeat dropped Sunnyside's record in the points standings to 4-28 on the season.
Sunnyside's junior varsity squad also sustained a 4-0 loss yesterday. The top two individual series tossed by the JV Lady Grizzlies were a 239 and 235 by Vanessa Roman (137-102) and Jennifer Tobin (127-108).
In 'C' squad action, also a 4-0 loss by Sunnyside, Gabriela Juarez had the top individual effort for the Lady Grizzlies with a pair of 101-123 games.
Sunnyside is scheduled to compete against the Davis Pirates next Monday at Yakima's Minda Lanes.