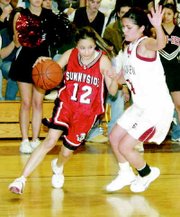 GRANDVIEW - Despite not having senior Talia Spini for most of this past Friday night's game, who was nursing an injury and only played briefly, the Lady Grizzlies dominated from start to finish against the Grandview Greyhounds, winning 57-29.
The win evens Sunnyside's record at 2-2.
"We did just about everything right in the first half," said Sunnyside Coach Leo Gomez.
Fellow senior Fatima Ruelas stepped up for the Grizzlies, accounting for 16 of her team's points.
Junior Kerri Urrutia also dropped in 13 for Sunnyside.
"Kerri had a good game," Gomez said.
Sophomore Kayla Rollinger came off the bench and contributed to the Sunnyside offense. She had 10 points.
Ruelas also accounted for 11 rebounds to give her a double-double.
Urrutia just missed one of her own, grabbing nine boards.
Teammate Molly Dolan also pulled down five rebounds.
Despite the blowout victory, Gomez said there are still things his team needs to work on. Shot selection is one of those things.
In addition, though he said his team boxed out well, they still need to do it consistently, which will allow them to pull down more rebounds and not give up second-chance points.
Gomez said a game like this gives him a chance to test out his players and see what they're capable of in coming off the bench and contributing.
"I like playing everybody in every quarter," Gomez said.
Sophomore Alexis Ramos scored seven, while senior Jessica Pacheco had three points and freshman Katie Wutzke had two.
Gomez said the game also helps because it shows him where his team is in relation to others in the area.
"Overall this really helps us a lot to know what we're up against," he said.
Also, Gomez said he made a conscious effort last Friday to curb scoring because he knows he could be in a similar situation in the future.
"That's just not the way I work," he said.
Sunnyside faces Kiona-Benton at home Tuesday.
SHS 21 16 17 3 - 57
Grandview 11 5 2 11 - 29
SHS : Torbay 0, ,Spini 0, Dolan 6, Pacheco 3, Rollinger 10, Ruelas 16, Ramos 7, Wutzke 2, Urrutia 13.