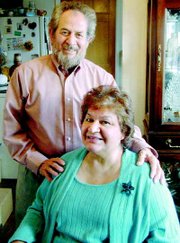 May 30, 2004 was like any Sunday morning for Juanita Moya.
She helped husband Abel tend to their Sunnyside yard, then attended Calvary Baptist Church, where she played the piano.
But Moya's day and the rest of her life abruptly changed from that point when she suffered a brain aneurysm after playing the piano at church.
Abel, 67, hurried to the hospital only to learn that his wife of more than 40 years had but two hours to live.
"It was pretty bad, they didn't rush her into surgery because they didn't expect her to live," he said quietly.
But two hours turned into a day and then weeks and months of Juanita clinging to life.
"Word had gotten around that she was dead," Abel recalled. "One man came up to me on the street and told me he was sorry to hear of my wife's death. I told him she's not dead."
Nearly 18 months after the aneurysim Juanita, 65, is very much alive.
Not only has she defied expectations and lived, she has regained full use of her speech and is as sharp as ever.
"There's been a lot of miracles around this table," Juanita said as she patted the family's dining room table. Miracles, she said, stemming from prayers by Sunnysiders from all walks of life.
Millionaires and asparagus cutters have crowded around the table, as have people from several races and denominations.
The common denominator?
All the folks are praying for Moya and, more importantly she would tell you, they are people of faith, hope and love.
She praised the medical care she received, but also believes God's healing hand has guided her recovery.
"There's a very healing effect when there's kindness and love," she said.
A highlight of Moya's recovery came in October when she began playing the piano again at Calvary Baptist. "There was a lot of clapping and a lot of tears," she recalled.
A former para-educator at Harrison Middle School, Moya has even returned to the classroom to visit.
But there is still one thing left undone by the aneurysim.
"My left leg feels like a twisted pretzel," she said of her continued need for a walker or wheelchair.
She said the "discipline of a wheelchair" has taught her to pray more and Moya said she has experienced first hand the care and concern in the Sunnyside community.
"Sunnyside is sunsational!" she said with a big smile. "Everyone has been great to me."
A group which visits the Moya home each week to continue praying for her is seeking yet another miracle-that she will walk on her own by Christmas.
"It would be a marvelous gift," she said of walking again. "But I still consider the gift of love that my family and friends have for me as the very, very best gift I could have."