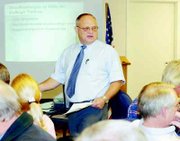 College is expensive, we all know that. Parents want to help their children by paying for their college but that's hard to do sometimes.
"Parents are notorious non-savers," Ivan White, a CPA at White and Co. here in Sunnyside, told members of the Sunnyside Daybreak Rotary Club Wednesday morning.
Parents desire to provide a good education for their kids but have to weigh that against wiping out their savings and retirement or putting debt on their home or business, White told the audience.
Financial aid is something to consider. There are grants and scholarships, educational loans and work-study programs. These are nice but not everyone qualifies. So what to do?
White took the angle as to what grandparents might be able to do to help out.
One such thing is for the grandparents to set up a custodial account for their grandchild.
These are accounts that the grandparents put money into over time. The grandchild will be able to get the money when he or she turns 18. Some advantages to this are it's simple, it reduces the grandparents' income when tax season rolls around and it reduces their estate, which will help with estate taxes.
The biggest disadvantage is the loss of control the grandparents have when the child turns 18.
"There is nothing to stop that child from spending the money on a new corvette," White said.
Another option is to give the grandkids a gift of money. If the amount is kept under $11,000, the gift tax does not apply. One disadvantage to this option is it could have a negative impact on financial aid if the child is eligible.
Another option is to just loan the grandkids the money. If this is done, the grandparent can give more than the $11,000 tax exclusion. The grandparents will be able to keep control of the asset and it has no effect on financial aid.
The grandparent can charge interest free or below market interest rates. The best part is the loan can be forgiven after the child has graduated from college.
"Probably the best thing you can do," White says, "is to open a Roth IRA."
This a long term method of saving and the original contribution may be withdrawn tax and penalty free after five years. After you've taken out the principle, the interest will do the work for you.
White said that a regular IRA would be the second best choice.
These are just a few options available to someone wanting to pay for someone else's education. The best bet would be for someone to contact their accountant or find one and ask what their best options would be.