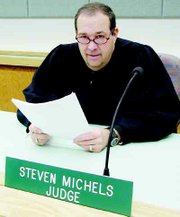 Now in his 20th year as Sunnyside's municipal judge, Steven Michels has seen the court grow from a backload of zero cases in its infancy to more than 4,000 cases a year currently.
"It always stays interesting," Michels reflected after a full day of court cases last Tuesday.
Michels-who has a private legal office in Sunnyside-said holding court each week has given him a unique perspective on practicing law.
A Sunnyside native and Grandview High graduate, Michels said the city went into the court business due to dissatisfaction with the state judge serving at the time.
"Mainly the judge was very unresponsive to the community's needs," Michels said of Sunnyside's decision to pursue its own court.
He added that local judges can better serve the city since they are more in tune with local issues. "It gives you a good grasp on what's effective or not in dealing with local problems."
The primary issues he's been seeing lately are marijuana possession and driving while intoxicated. Making the judge job more difficult is the 150 cases or so he sees while holding court each Tuesday.
"By 4 p.m. (last Tuesday) there were still eight trials scheduled," Michels noted.
Adding to the work load are recent higher court decisions requiring extensive paperwork be filled out for cases ranging from minor traffic infractions to more serious crimes.
"I think the higher courts thought it was a good decision," Michels said of the paper work. "But if they had to be the ones to actually implement it they might think otherwise," he added with a laugh.
There's no Christmas break, either, as enforcement emphasis on DUI's during the holidays brings even more caseloads. "Those are good things," he said of emphasis activities. "But all those people they arrest (locally) during the emphasis have to be seen here," he added.
Michels, whose wife helps with his law firm and their daughter, who is a lawyer, will tell you the presence of Sunnyside's own municipal court is a better arrangement than the previous system.
Yet, at age 20, the city's court system could use some fine tuning.
"I think there will come a time when we may have to have two court days a week," said Michels, who was recently re-appointed to a four-year term. "The judge position could still be part-time, but an extra day would help lessen Tuesday's load."
That load was evidenced by the eight trials still on the docket at 4 p.m. last Tuesday. All of the cases were settled by negotiations between the prosecutor, city attorney Mark Kunkler, and defense counsel.
But to make sure everyone has their day in court each Tuesday that's how it has to be, Michels noted. "There wouldn't have been time to try eight trials in the few hours we had that afternoon."
Until Sunnyside moves to a two-day a week system, Michels said defendants, the city and the victims will continue to get a fair shake each Tuesday.
"We carefully review each of the cases to make sure everyone is well represented," he said.