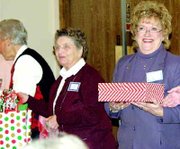 PROSSER - Laughter, music and a crazy game in which presents passed from hand to hand were all part and parcel of the Lower Valley Christian Women's Club holiday meeting yesterday (Monday) in Prosser.
Roberta Morin-a former teacher, Forest Service employee and EMT, white water rafter and wife to a cattleman-not only brought an inspirational message to share, but joined in the present-passing circle that ended up with the women scarcely knowing their right hand from their left.
Morin introduced herself as an animal lover that once swung from a rope in a hay loft onto the back of a draft horse that had conveniently wandered into range.
Of course, at that time, she said, she was "small, young, ignorant and helpless" and enjoyed the ride "from one bunch of grass to the next".
Serving up humor with her message of hope is a trademark of Morin, who described herself in childhood as "hyper-active pre-Ritalin".
She was frank yesterday as she talked about a father who was preoccupied with work and drink and a mother who sought refuge in music.
"That left the kids to themselves, and that wasn't good," Morin said.
In deference to the young members of Top String, who were at the luncheon to entertain with their music, Morin asked them to cover their ears while she revealed that she and "other kids in my neighborhood, who were from homes even more dysfunctional than ours, did what we could to overcome the drunkenness and indifference."
What they did, she said, was "break into places and see if we could get out before the police came".
Animals, she said, were the only constant thing in her life that provided the unconditional love she needed.
"My animals taught me how to love," she said, speaking with great affection of a pet dog named Curly, who forgave her when she wasn't in the best of moods.
"In junior and senior high school, my clothes told everybody that I was from the wrong side of the tracks. Then a Sunday school teacher said she had the answers for my negative emotions. She told me about a love that was so strong anything can be forgiven.
"She told me that God's love was more unconditional than Curly's. That God loved me just as I was, pimples, warts and all. After that, life seemed better," said Morin.
Until, she said, she was raped.
"Definitely all my old anger was back. I reverted to old attitudes and aggressive behavior. I stayed active in sports, music, drama, but I accepted that was fleeting."
She started working with other people's horses. "A little lapse of attention, and they'd bite you, step on you, buck you off," she said.
"Working with horses taught me patience," she claimed. "There was a pinto who felt my anger and dumped me 27 times. I learned that consistency, a soft hand and quiet words worked better with horses.
"Later, as a teacher, I learned that consistency and gentleness worked as well with people as with animals.
"I went back to church, sang in the choir and discovered that's the way God was working with me, consistency and gentleness."
She said her feelings of worthlessness and helplessness left her. "And the anger that had controlled me was gone," she said.
Now, 44 years married, she says she finds herself following God just "like a puppy, with enthusiasm", but sometimes like a horse when "I take the bit in my teeth and take off full speed and sometimes I still sport a 'tude, like Bubby, one of our cats, who, when he gets upset with me, will pull all my towels and aprons out of the kitchen drawer."
She said she's finding it "wonderful" to just relax with her new attitudes.
"I haven't been 'bucked off' in a long time, but I can't be complacent," she said. "Because eventually something will come along to knock me down."
She says her faith and the music and animals in her life given her the anchor she needs.
And she ended her talk Monday at that noon luncheon at The Barn in Prosser with a song she wrote. A few lines from it express the belief on which she now relies:
"When all seems down and all is dark . . . My Lord is near to calm my fears. He's always there to dry my tears."
It seemed a fitting send-off to the group of more than 70 Christian women who had gathered for their "Visions of Sugar Plums" Christmas luncheon.
. Frances Potts can be contacted at (509) 837-4500, or e-mail FPotts@eaglenewspapers.com
Frances Potts/Daily Sun News
The reception that Top String received when the musical trio performed at yesterday's luncheon is apparent on the face of Kelly Bolt and Katrina Lint, both of Sunnyside. Applause, cheers and laughter urged on the ensemble whose ages are 6, 9 and 16. The popular group is picking up more gigs around the area since they appeared on stage before the play "Always Patsy Cline" in Sunnyside this past fall.