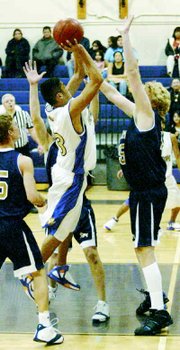 MABTON - Some tough luck and sloppy play were enough to keep Mabton from winning its contest with the Moses Lake Christian Academy Lions last night. The Lions won 61-47 to hand the Vikings (1-0, 4-2) their second straight loss.
Moses Lake dominated the boards all night long. The Lions out rebounded the Vikings 34-23 and made their free throws while Mabton struggled. The Vikings were 3-for-16 (18 percent) compared with the Lion's 6-for-9 performance at the free throw line.
"We didn't get any breaks and didn't do much to stop them either," Mabton Coach Brock Ledgerwood said. "I wasn't really happy with our overall team effort. We were getting beat on the floor and on the boards. You can't expect to win if you're just getting outworked."
The Vikings were outsized against the much taller Lions but Ledgerwood wasn't using that as an excuse.
"We've dealt with it in the past and we'll be dealing with it all year," Ledgerwood said. "We just didn't do the things we worked on to take their height away."
In an earlier meeting this season, Mabton beat the Lions 51-45.
Mabton went into halftime behind by seven points and at the end of the third quarter they were down by 10. In the fourth quarter the Vikings attempted a comeback and whittled the lead back down to seven late in the fourth quarter.
That's when Moses Lake's big men took over and the Lions solidified the win with their free throw shooting.
Andy Rodriguez had 14 points and 7 rebounds for the Vikings. Eric Tellez added 12 points and grabbed 9 rebounds.
Riggs Yarbo led Moses Lake with 18 points and 11 rebounds.
"We are going to have nights when our shots don't fall and the breaks don't go our way but our defense has to show up every night," Ledgerwood explained. "We got outworked, out hustled and beat up for 32 minutes. We need to find our toughness and battle on every possession."
Mabton tackles LaSalle next in a home game scheduled for this coming Saturday.