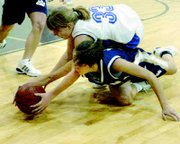 MABTON - For the second time in the past two weeks, the Lady Vikings demolished Moses Lake Christian, this time at home Monday night 52-26.
The second non-league win against Moses Lake Christian this month runs Mabton's record to 5-1 on the season.
"Things are coming together," said Mabton Coach Mike Roettger. "I thought we had a great team effort."
The Vikings scored double digits in all four quarters and held Moses Lake Christian to single-digit scoring in each quarter.
Freshman Ana Jimenez led the way for the Vikings in scoring, dropping in a game-high 16 points.
She was the only Viking scorer in double-digits as Roettger said his team spread the wealth.
Several other Mabton players were close to double-digit scoring, but fell just short.
Freshman Trishi Williams had eight points, but grabbed a game-high 11 rebounds.
Williams also had six steals.
Alida Mendoza and Regina Palomarez each had seven points for the Vikings.
Another indicator of how Mabton spread the wealth was the assist column. Three Vikings each had five assists: Kayla Campbell, Anna Montelongo and Mendoza.
A swarming Mabton press also helped create scoring opportunities for the Vikings. Mabton forced 35 turnovers. Roettger said many of those turnovers went right into his players' hands, which allowed them to score fastbreak points.
The play of Mendoza has consistently been a bright spot for Roettger throughout the young season, he said.
"She's really stepped up her game this year," he said. "She's a positive leader at all times."
And she needs to be if the Vikings are going to have success. She's one of just five seniors on a team comprised of half seniors and half freshmen.
Roettger said his team played the way he's wanted them to all season. They actually showed up to play from the tip-off.
Though they routed Moses Lake Christian, Roettger said the eight-day lay off his team now has will be used to improve defensive play and teach his team to communicate more effectively.
Mabton doesn't play again until Dec. 20 when they hit the road to face 2A Stevenson.
MLC 4 7 6 9 - 26
Mabton 12 15 14 10 - 52
Mabton - A. Mendoza 6, Jimenez 16, Campbell 2, Sanchez 0, Cardenas 0, Palomarez 7, Sotelo 0, Montelongo 12, Williams 8, J. Mendoza 6, Enriquez 4.