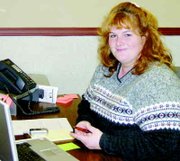 Michelle Mensonides likes the feeling of matching the right home with a buyer.
Though she's only been working at Prudential Valley Investment Properties in Sunnyside since Dec. 1, she already knows that she'll enjoy the satisfaction of selling a house, and she hopes she'll be good at it, too.
"I want to be good at what I do," Mensonides said.
As a sales associate, matching a house with a buyer is an important job, she said.
"Finding a house is something you have to live with for a long time," she said.
Though she hasn't been a real estate agent for very long, Mensonides has done a variety of other jobs which have given her a great deal of experience in dealing with people.
She previously worked as an administrative assistant and in insurance, she said.
Although a university degree wasn't required to become a realtor, Mensonides said she attended college, and even earned a Bachelor's degree in religious education from Prairie Bible Institute in Tree Hills, Alberta, Canada.
She even has a teaching certificate, though she's never used it.
Mensonides has lived in the Sunnyside area for just over a year.
She moved here from the Klamath Falls area of Oregon because her husband, Sybren, whom she married just prior to moving here, has a business in the area, she said.
She also has two sons, Joshua, 9, and Cameron, 7.
One thing Mensonides said she likes about working at Prudential is that everybody tries to make the home-buying experience the best possible experience it can be.
"They want you to succeed," she said of Prudential. "But they want the customers to enjoy the experience."
And that pleasant attitude doesn't just stop at the customers, she said.
"These guys - everybody is really nice," she said of her fellow employees.
Sunnyside isn't such a far cry from where Mensonides grew up, she said.
In high school, growing up in Montana, her first business was owning a Holstein, she said. She'd milk it and sell the milk to earn some extra money, she said.
Selling houses and selling milk, however, are two different things.
In order to become a realtor at Prudential, Mensonides took online courses to help prepare her to take the state's real estate exam.
"That's a hard test," she said.
Since she began working at Prudential, she's been receiving a type of on-the-job training, she said. She's been teamed up with others in the office.
"You've got your classes, but classes only give you so much," she said.