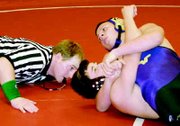 GRANGER - Two days after taking a pounding at defending state champ Warden, the Mabton wrestling program righted itself with a solid fourth-place showing at this past Saturday's 12-team Iron Man wrestling tournament in Granger.
"I was hoping this would happen," said Viking Coach John Kilian. "We're back on track."
Mabton was sparked by tourney championships from Andy Torres at 119 lbs. and Eli Perez at 215 lbs.
Torres grabbed the title with a 3-0 record. All were pins, including the championship victory over Highland's Eduardo Flores. "Andy dominated, he was a real smooth technician and made it look easy," noted Kilian.
In what Kilian termed "the match of the day," Perez won the 215-lb. title over Granger's Jose Morales on an overtime takedown.
"Eli lost to Morales three times last year so it was a huge win for him and the team," Kilian observed.
Robert Marquez was second for Mabton at 275 lbs., recording consecutive pins before losing 11-3 in the final against Eric Lopez of Granger.
Taking third at 171 lbs. was Adrian Magana, who posted a 3-1 record on the day. That included a 15-8 consolation final victory over Cascade's Kevin Dodson.
"Adrian keeps amazing us," Kilian reflected. "His goal was to win at least 10 matches this season and he's already at six or seven. We're very proud of him."
Arturo Nunez was fourth in the 125-lb. division for Mabton, going 3-2 with a consolation finals loss to Will Hara of North Beach.
Fresh off the success at Granger, Mabton returns to the mat this Thursday to take on host Burbank, as well as Dayton and Pomeroy.