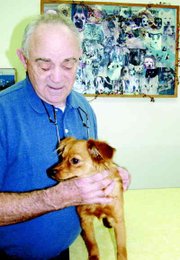 When you've been treating members of the animal kingdom for 40 years for various ills, ailments and accidents, you've probably bumped into a few surprises along the way.
Dr. Jonathan Mercer and his wife, Carol, who works with him in their Sunnyside veterinarian clinic, have collected a few stories over the years that are worth sharing.
As experienced as he is, there was one time Dr. Mercer had a little trouble treating a dog.
"One time this blind woman came in and wanted doctor to look at her dog," recalled Carol. "Well, we looked, but there was no dog.
"She was carrying a stiff, heavy, older leather leash that had probably been around for a long time, but there was no dog on the end of it," said Carol.
"We had quite a time convincing her that she wasn't leading a dog. She ran her hands down the leash and finally believed us. We asked her if she had a dog on the leash when she left home, and she said she did."
The good news was that the dog, who may have been trying to teach his owner a new trick, was found hiding out at home.
The Mercers dealt with another case of a disappearing animal that was along the lines of the plot of a locked-door murder mystery.
"A client brought a cat in and put it in our examining room, closed the door and returned (to the reception area) to wait for the doctor," said Carol. "When we went in to examine the cat, it was gone. There was really no place for it to hide. No other doors or way to get out. But we couldn't find it anywhere. Someone suggested looking in the cabinet drawers. A couple of us looked at each other, like why, why would we look in closed drawers?
"But we looked, and there it was, in a drawer. How it got in there or how it closed the drawer after itself, we had no idea."
Then there was the cat whose owner brought it in on a chain for a leash because he didn't have a crate to carry it in.
"And it was a rather heavy chain," noted Carol, "and the cat got loose and started running around, and that chain was rattling around after it. That cat just went bananas. We all started laughing, and the owner was laughing, and that cat just ran all over the place with the chain rattling along behind.
"You know," Carol said, more seriously, "if you attach a bow or whatever to a cat's tail, the cat thinks something is chasing it."
Is that why cats chase their own tails?
"That would be a question for an animal behaviorist," said Carol, with a grin.
Another cat presented a less humorous situation for the Mercers.
"This cat was brought in with an arrow sticking out both sides of its neck. The arrow was right through it. We wondered if we were going to be able to do anything to save it," said Carol.
The examination revealed the arrow had entered and exited through the loose skin on the back of the cat's neck.
"Fortunately, it didn't hit any vital organs," said Carol.
A dog with an intestinal blockage brought his own form of excitement to the clinic.
"We knew there was a blockage in his intestine, and the x-ray showed it was probably a ball, but we had no way of knowing exactly what it was," said Carol. "It took all of us, four I think, for the surgery because of the nature of it. We were all gathered around, helping, when doctor cut into the intestine and that ball came whizzing out.
"It was a super ball. Remember those? A small, hard ball that bounced off anything it touched?" asked Carol.
"Well, that super ball came flying out of there, hit the stainless steel surgery table, which gave it a good start, and then flew onto the floor and bounced and bounced and bounced off the walls," she said, grinning at the memory.
"There wasn't a thing we could do to stop it because we were all busy with the surgery."
Carol said those are only a few of the experiences Dr. Mercer, she and the staff have shared in the 40 years they've been caring for valley pets.
"We have other stories, but some we aren't telling," said Carol.