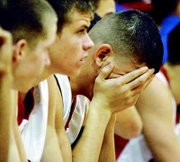 Bottom line last night? Sunnyside's Grizzlies couldn't get their shots to drop against a Ki-Be Bears team that was smoked by 27 points at home last Friday by Class 'B' Sunnyside Christian.
End result? The 3A Grizzlies went down in flames against the visiting 2A Bears, 68-58.
"We had a lot of shots that went in and rolled out," said third year Sunnyside Coach Steve Urrutia. "I don't know what you can do when you can't even get the lay-ins to go."
Sunnyside (1-4) stuck to its revamped game plan, but the results last night were similar to the Grizzlies' earlier outings this season. Urrutia and his staff have implemented a quick-fire offensive scheme, where the idea is to put up nearly 100 shots a game, most of them coming from beyond the 3-point arc. Defensively, the Grizzlies' game plan is to confuse the opposing team with a full-court 1-2-2 trapping press, which has already shown to yield upwards of 40 turnovers a contest.
All well and good, except that this rapid brand of basketball is contingent on one thing making it work. Namely, more than just a few of the shots have to fall.
And for Sunnyside last night, there were far too many times the ball just wouldn't roll through the hoop.
"We executed the game plan fine," said Urrutia. "But when the ball won't drop....I don't know what to say....it's tough to win."
Ki-Be was methodical in pulling away from the Grizzlies, outscoring Sunnyside by four points in both the first and second quarters to forge a 39-31 lead at the half. Sunnyside closed the gap to just a six-point deficit heading into the final stanza of play, but the Bears pulled away down the stretch by outscoring Sunnyside 20-16 in the final period.
Inflicting the most damage against the Grizzlies was the duo of Adam Diaz and Carlos Mendoza. Diaz, at 6'6", swept the glass for a game high 17 rebounds. He chipped in 16 points, as well. Mendoza led all scorers in the game with 26 points, and, like Diazm had a double-double thanks to 16 boards.
Sunnyside's top scorer last night was senior Derrick Simmons, who popped in 12 points. Junior Ryan Engel added a 9-point effort for the Grizzlies.
One of the telling points of the game came at the free throw line, where Ki-Be outscored Sunnyside by a 23 to 10 margin. The Bears made 23-of-36 foul shots while Sunnyside only attempted 16 free throws.
"There were some bad decisions on our part," Urrutia said in reference to sending the Bears to the free throw line for 36 shots. "Reaching in when we shouldn't have, things like that."
Sunnyside is scheduled to open Mid-Valley League play this Thursday, at always tough West Valley. The Grizzlies return to non-league play this coming Saturday night with a home game against the Connell Eagles.
Kiona-Benton 16 23 9 20 -68
Sunnyside 12 19 11 16 -58
Kiona-Benton: Mendoza 4, Fernald 11, C. Mendoza 26, Pace 9, Kurth 2, Diaz 16.
Sunnyside: Coleman 3, Montelongo 5, Briones 7, Simmons 12, Espino 2, Palomarez 6, Engel 9, Jongsma 4, Cornelius 4, Burgueno 0, Baysinger 0, Bos 6.