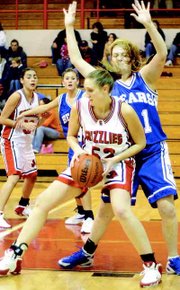 Despite coming out flat-footed Tuesday night against visiting Kiona-Benton, and being outscored 17-7 in the first quarter, the Sunnyside Lady Grizzlies came back for a 57-47 victory.
Coach Leo Gomez said his team really got going after their sluggish start.
"They picked it up in the second and third quarters," Gomez said.
Despite outscoring the visiting Bears 18-11 in the second quarter, his team still went into the locker room at halftime down by three.
The second half was all Sunnyside, though. In the third quarter, Sunnyside didn't make a single shot from the field, but outscored the Bears 12-7, with all 12 points coming from the free throw line.
A 20-12 fourth quarter sealed the victory for the Grizzlies.
Sunnyside had 18 turnovers in the game, which Ki-Be converted into 14 points, but it wasn't enough to pull out the victory.
Sunnyside's Vanessa Torbay led her team in scoring with 17 points. Most of her points came from behind the three-point line as she hit five treys.
"Torbay had a good game for us," Gomez said.
Senior Talia Spini again was big for the Grizzlies. She dropped in 14 points, and was 12-of-15 from the charity stripe.
Spini also pulled down a team-high eight rebounds.
Junior Kerry Urrutia was also in double-digits with 10 points.
Fatima Ruelas contributed to the scoring effort with nine points. She also grabbed six boards.
A bright spot for Gomez was the play of freshman Molly Dolan. Dolan had seven points and four rebounds.
"Anytime she can score for us, we're pleased," Gomez said of Dolan.
Bench play was also a bright spot, Gomez said.
"I was pleased with what I saw off the bench," he said.
The win improves Sunnyside's record to 3-2 on the season.
The Grizzlies travel to West Valley on Thursday for their league-opener.
SHS 21 16 17 3 - 57
Grandview 11 5 2 11 - 29
SHS : Torbay 17, Spini 14, Dolan 7, Pacheco 0, Rollinger 0, Ruelas 9, Ramos 0, Wutzke 0.
Ki-Be: Upton 14.