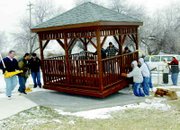 Memory Lane Park just got some new furniture. A brand new gazebo arrived Tuesday morning. Sunnyside High School students built and then delivered the gazebo to the park area at Hillcrest Manor.
"The park is enjoyed from spring to late fall," Pat McPherson, social services director for Hillcrest Manor, said.
The students, from Jose Acosta's beginner and advanced construction class, worked on the gazebo for about four weeks.
The gazebo came about because the elders at the home voted for it. Every year, Hillcrest Manor holds what they call an Eden silent auction. This year's goal for the auction was to raise enough money to build the gazebo.
Items for the auction are donated by the community, Hillcrest Manor staff and the elders who live at Hillcrest Manor.
The staff at Hillcrest Manor call the auction an Eden auction because the staff follows what is known as the 'Eden Alternative.'
This alternative is a concept developed by Dr. Bill Thomas of New York. The concept is simple, put the elders first.
The elders at Hillcrest Manor do what they like and are in control of their own lives, much like they would be if they lived on their own.
"By bringing in life we eliminate boredom, loneliness and helplessness," McPherson added.
This is done by filling the place with plants, having young children visit and having animals on the ground, mostly birds and cats.
So after the Eden silent auction and the decision by the elders to build a gazebo, HillCrest Manor bought the supplies and poured the foundation while Acosta's construction class provided the labor for the project.
"The kids got graded on a daily basis on what they did and how they did," Acosta said. "It made me feel good to see the kids put something like that together. It came out real sturdy."
Acosta added this is the second project they've done for Hillcrest Manor. His classes built a small shed a couple of years back for them.
The gazebo fit in nicely at the park.
"I think it's a wonderful gift created by the high school students for the elders," Mary Arthur, administrator for Hillcrest Manor, said. "It's a witness to the bond between our new young adults in our community and the elders, who are the founders of our community."
McPherson added, "We just love it and are excited and thrilled we were able to reach our goal."