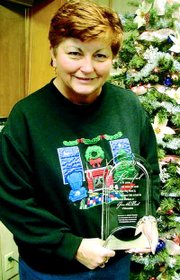 "She was surprised!" laughed Port of Sunnyside Administrative Assistant Vernita Coffey as she recalled a surprise honor given Tuesday to Port Manager Amber Hansen for her 15th anniversary with the district.
"Amber has said she's planning to retire before her 20th anniversary, so I figured we better celebrate her 15th," Coffey said of Tuesday's festivities.
"I know pretty much everything that's going on in the office, so the girls really pulled a surprise on me!" Hansen said of the honor, announced during the port's annual Christmas party. "Besides being extremely surprised, I felt very honored. It's nice to be appreciated."
Hansen added, "I work with a great group of people and I work for a great group of guys (Port Commissioners Jeff Matson, Arnold Martin and St. Clair Woodworth)."
"During the time Amber's been the director, the port operations have grown tremendously," said Matson in recognition of Hansen's contributions.
Among the accomplishments during Hansen's tenure are the expansion of Midvale Road, and purchase of about 100 acres at East Edison and expansion of the Port's industrial wastewater capacity.
"She's been a leader in all these projects for us," added Matson.
Matson also praised Hansen's work ethic. "She leads the staff by example with all the time and effort she puts in on behalf of the port," he said. "When you have a leader going the extra mile, it makes it easier for the rest of the staff to do the same thing."
Martin pointed to Hansen's ability to plan for future projects.
"She does a good job of looking forward to what the port should be involved in and working on in the future," Martin observed. "It takes a lot of planning, along with the commissioners, to think towards something in advance."
Hansen's role with the port has helped Sunnyside gain respect statewide, noted Martin, who said that she just completed a two-year stint as treasurer for the Washington Public Ports Association.
Like Matson, Martin praised Hansen's ability to manage a variety of large projects, including the district's industrial waste facility.
"We've asked her to do quite a few different things and she's always dug in there and got us the answers and got the job done," Martin said.
So what's her secret? What's kept Hansen going 15 years, and counting, with the Port?
"It's exciting to make a difference in the community in which you live," Hansen said. "There's always something new."
.