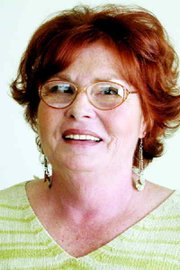 Carol Stone got a jump start ahead of the other two newcomers elected to the Sunnyside City Council this past November. Her opponent, incumbent Bruce Ricks, abandoned his position early to let her be seated as soon as the General Election results declared her the overwhelming winner.
She said she's heard the remarks that voters didn't vote for her but voted against the incumbent.
"I would half agree with that," she said. "Half of the people probably voted to get him out, the other half knew they were going to get someone who was going to represent the community."
Stone took the running start Ricks gave her, and, as soon as the election results were in, before she even took a seat on the council, she made it a point to visit every department in the city.
"I've been to the police, to the water and sewer departments-I know where the lift stations are and what they do-and to the fire department where I tried on all their equipment. That gear is heavy. Do you know the oxygen tank they wear on their back, that tank alone weighs 25 pounds!" Stone exclaimed.
"To learn I have to see it, hear it and touch it," said Stone.
She said she appreciates not having to wait until the newly elected council members are sworn in Jan. 9.
"It gave me an opportunity to get on-the-job training with no trial by fire," she said, predicting, "Next year, I'll be so much better at the budget hearing than I was this time."
As a candidate, she was invited to attend the budget retreat that took place in August 2005 in Pasco, and she developed an opinion about that retreat. "In the budget retreat meetings, no member of the public is allowed to speak. And it was held out of town, and I prefer it to be in town and have the public involved," she said.
Being involved with the people she's been elected to represent is not only Stone's goal, but her mission.
"I love people. My mom said she thinks I've been campaigning since I was born because I've always liked people and being involved with them."
She said it's a given that she will continue that in her role as a council member.
"I'm out there. I'm available to anybody. I want people who see me out to come and ask me anything. If I can, I will answer or find an answer or suggest a meeting they can go to or refer them to staff who can give them answers. Because we are servants of the community, not the other way around," she said, adamantly.
She said she does have goals for her term of office.
"Revitalize the heart of our city downtown, get the citizens involved and infrastructure!" she said.
"Infrastructure-sewer upgrade, adequate water wells, old water lines replaced, sidewalks, curbs, gutters, upgrade our parks. Years of neglect have ended up causing serious concerns," she said.
"A lot of what I had concerns about and voiced as a citizen in the audience at council meetings are being taken care of now," she said.
"For instance, the sewer upgrade. I will be happy to do the ribbon-cutting or whatever for that! We will have adequate water, with a new water well being drilled and improvements being made to the existing well so it can be part of the system," she said, adding, "There are new roofs going onto the bathroom at South Hill Park. For gosh sakes, someone was trying to set it on fire. It had a wooden shake roof! And we're getting a new metal roof on the Lion's Pavilion and on the block building at Central Park, and building an equipment shed at Sunnyview Park.
"There's been a lot of things that hadn't been done. We have a park staff that's basically one guy with a couple of helpers, Mr. Ziegler, who maintains what we have and has innovative suggestions for improvements," she said.
"One person can make a difference when you're sitting in the audience at a council meeting, but when you're on the council you have to work as a team. You have to get a consensus to get something done," she said.
"I am amazed and disappointed at the same time that more people don't take an interest in the things that affect them . . . until they read about it in the paper," said Stone. "I've attended and made a point to attend every meeting open to the public in the past three years. I attended meetings of the planning committee, the chamber of commerce, the board of adjustment and city council. Those meetings are free to the public and it's a way for everyone to become educated in city government and city business. I would encourage any potential city council candidate two years from now to start attending meetings now."
She said she looks forward to her term of office.
"I'm assuming that after the first of the year when all the newly elected are seated on the council, we'll have a meeting with Mr. Stockwell (the city manager) to give him directions. He does work at the direction of the council, you know," Stone concluded.
.