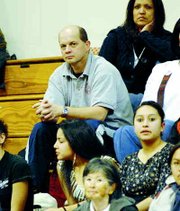 Rocky Simmons has lived in Sunnyside all his life.
The 44-year-old Sunnyside School Board Director-elect will officially be sworn in next Tuesday, after two previous unsuccessful bids for the office, when the board holds its final meeting of 2005.
Simmons will replace Larry Pangle, whom he has known for 20 years, he said, and from whom he lives down just three houses.
The margin separating the two candidates was so slim that Simmons credited himself and Pangle for tapping into each's social circles, and their approachability among parents as the reason they both received so many votes.
And the fact that the two are friends kept the campaign civil.
Simmons said because the election was close it won't be his place to push for major changes, or to be a lone dissenter.
"It's a five-member board," he said.
He said he and the board are going to continue to work toward the mission statement of the board, which means meeting the needs of kids in the district, he said.
"I think that's what we're going to stick with," Simmons said. "That's it in a nutshell."
He knows about meeting needs of kids. He has three of his own. Robert and Natalie have both finished high school, he said, and his youngest son Derrick is a senior at Sunnyside High School.
"My wife (Laura) and I have been very involved in our childrens' educations," Simmons said.
Getting parents involved and creating good, productive relationships between parents and teachers is something Simmons said he wants the board to work on, too.
And that extends to the Washington Assessment of Student Learning.
Simmons said it's a big issue right now among school districts throughout the state.
"It concerns me for graduation rates," Simmons said.
The WASL is set to become a graduation requirement starting in 2008.
Right now, Simmons thinks that might not be a realistic goal for Sunnyside.
Alternatives like summer school and test retaking are possibilities, he said, but the 2008 requirement still may not be doable.
"I think the common thing we hear is that we might need a little flexibility to meet the requirements," Simmons said. "In the time frame of 2008, that might be a big chore."
In terms of the WASL as a measurement of a student's abilities, Simmons said he isn't crazy about the idea of basing a teen's ability to succeed on a single test, especially for those students who aren't good test takers or who may not necessarily be able to understand certain material.
Simmons said students may be successful in trade school or even in college after failing the WASL. Basing whether a person graduates from high school on a single test doesn't seem entirely fair, he said.
But Simmons said he and the board are going to try to meet requirements set by the No Child Left Behind Act and state standards.
"We're going to try like heck to meet those standards," he said.
Graduation rates could be affected by the test, and getting students over the hump and moving toward graduation is an important thing to work, he said.
So is being positive.
"We don't want to send them the wrong message and have them give up," he said.
.