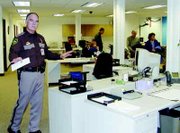 YAKIMA - There was no room in the inn (the new county jail), so Yakima County Sheriff Ken Irwin found something better.
This past Tuesday night, Irwin held an open house to show off the Sheriff Department's new $815,000 office at 1822 South First street in Yakima, near Union Gap.
The new office also houses the sheriff's department emergency call center, interrogation rooms and computer stations available to detectives working in Upper and Lower County.
The six-acre site also provides about 50 percent more room for the call center. "Eventually I'd like to put on more call takers to help with the call load," Irwin said.
"This allows us to have everything in one location," Irwin said of the building while providing tours.
The move stemmed from lack of room in the new jail for work space for the Sheriff's search and rescue personnel.
Combine that with the fact that the courthouse in downtown Yakima-the former location of the Sheriff's office-is badly in need of repairs and a move became a necessity, said Irwin.
The sheriff's former headquarters at the courthouse weren't vacant for long, as the geographical information services personnel moved into the spot.
But the answer for the sheriff's office was the McGuire Lumber site, noted Irwin. "When I saw it I thought it would be perfect," he said of the location, which offers 7,000 feet more in office space. Further, there is additional outside storage, formerly a lumber yard, which could eventually be converted into work space.
Irwin figures the new office, as it stands now after renovations recently made by the county, will be enough to meet his department's needs for at least five years.
The price tag for the building includes 28 years in leases and renovations. "This gives us a long-term solution," Irwin said. He noted that $300,000 of the funds for his new headquarters came from a grant and the remainder from the county via the jail fund.
Beyond the budgeting aspects of the new Sheriff's department, Irwin said a good deal of planning and marking out cubicle space went into the project ahead of time.
"I'm glad we put all that time into it early on because it's worked out great," he said.
.