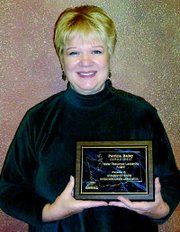 Pat Bailey, assistant manager, administration at Sunnyside Valley Irrigation District, received the prestigious Washington State Water Resources Association Water Leadership Award at the association's annual conference in Spokane, Nov. 30-Dec. 2.
She was also presented with a framed certificate of appreciation from the Board of Directors for her many years of service to the Washington State Water Resources Association.
She started her career at SVID on Jan. 12, 1976 as an assistant to the bookkeeper. Within 10 years she moved up to office manager and Assistant Secretary for the Board. She presently holds the title of Secretary / Treasurer and Assistant Manager - Administration.
"Pat's leadership has been recognized and utilized - particularly impressive in a man's world," said Jim Trull, SVID manager.
Trull said she was elected to the board of directors of the Washington State Water Resources Association, "...the only woman to have that distinction. Then she served as president of our association, the first and only woman to have that responsibility and honor. She has been a permanent fixture on the audit committee for the past 20 years," Trull added.
Bailey has also been the Secretary/Treasurer of the Yakima Basin Joint Board for the past several years as well as the Treasurer of the Roza-Sunnyside Board of Joint Control.
She and her husband of 36 years have two children and four grandchildren. She plans to retire in February 2006 and move to San Diego, Calif.
Pat Bailey