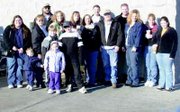 Imagine not having a Christmas tree. It might not be a big deal to some people, but now imagine not having a TV to watch, a couch to sit on or beds to sleep in, too.
Well, for one family in the Yakima Valley, that's a reality. But the Tuff Enuf Cascade Crawlers club, a group of Jeep owners from around the Valley, changed all that this past Saturday.
The group adopted two needy families, one from the Lower Valley and one from the Upper Valley, to donate presents and essential items to for the holiday season.
Rose Waterman, whose husband Albert is the president of the club, said she and the group get help from police and school counselors to identify needy families in both parts of the Valley.
"We just want to give them a good Christmas," she said.
And this past weekend, they did just that. The group gathered at the Sunnyside Wal-Mart store set with wish lists for family members. They also bought complete Christmas dinners for both of the families.
She said this is the seventh year the group has bought things for needy families. It originally started as something they did with their own money.
"The first Christmas we did something," she said. "But it wasn't much."
Thanks to donations, and money-earning activities the club holds, they were able to do a whole lot more this year.
The club got a complete set of furniture, and even a TV for the needy family in Yakima, she said.
Though people are in need of the items, Mr. Waterman said sometimes it's hard for people to really want to ask for help.
"You know people are proud," he said.
But, in the end, the families who receive the items are thankful the group gives them the things they do. And the club goes one step further by taking the items to the families themselves.
"They're very appreciative," Mrs. Waterman said.
.