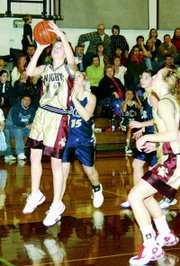 The Sunnyside Christian girls basketball team hosted the Riverside Christian Crusaders Friday night, easily beating them 63-29.
The Lady Knights used an aggressive defense to smother the Crusaders' offense, denying them the opportunity to score over 10 points in any quarter.
On a positive note for Riverside, the Lady Knights committed more fouls than they did because of the aggressive defense.
"That's going to happen when we get more aggressive," SCHS Coach Al Smeenk said. "We're reaching too much."
Smeenk also noted the 21 turnovers his team committed and said they will be working on that this week.
The Knights out-rebounded the Crusaders 36-27. The Knights shot 6-of-13 from the free throw line while Riverside was 12-for-25.
Tori Van Wingerden and Brittany den Hoed each had 11 points for the Knights. Emma Newhouse had 12 points and 9 rebounds while Melanie Van Wingerden added 5 points and 7 rebounds.
"Riverside is a younger team but they played very hard," Smeenk said. "We played well and it was a good weekend for us. We did a good job of moving the ball."
In the Lady Knights' second game this weekend, they traveled to Lyle on Saturday and beat the Cougars 80-24.
"We played very well," Smeenk said.
That they did as the Lady Knights shot 55 percent from the field.
"We pressed on defense for the first three minutes," Smeenk added. "After we were up 10-0 we switched to an aggressive man-to-man defense."
That seemed to do the trick as the Knights took a 27-10 lead after one quarter and turned that into a 50-17 half-time lead. The smothering Knights' defense limited the Cougars to 3 points in the third quarter and 4 points in the fourth.
The Knights (2-0, 5-1) also kept their turnovers in check for this game, committing only 12 of them to the Cougar's 31. Free throws were better too for the Lady Knights as they hit 14-of-20.
"We're going to keep working on our free throws," Smeenk promised.
Tori Van Wingerden had 19 points and Emily Hernandez added 19, too. Brittany den Hoed had 15 points.
"Our support players played very well and everyone contributed," Smeenk added.
.