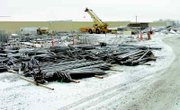 The City of Sunnyside is in the process of a $15 million upgrade of its wastewater treatment plant.
The exact total cost of the construction that began in September and is scheduled for completion in April 2007 is $15,449,627, according to Jim Bridges, director of Public Works.
He said freezing temperatures have slowed work on the project since concrete cannot be poured in cold weather.
However, workers are in the process of removing ground water from the site at 1336 South 4th Street.
Last Thursday a worker on site, who was braving the cold, said water has been reached at just five feet and, with excavations expected to go to 30 feet, water has to be pumped out of the site and directed back to the river.
That process is underway, and 15 wells have been drilled from which water will be pumped out.
A current construction data sheet, developed by Stellar J Construction and provided to the Daily Sun News by Bridges last week, shows that $1,196,851 had been spent on the project by the end of November 2005.
During December, according to Stellar J's information sheet, they plan to continue construction on the aeration basins and operations building, continue dewatering activities and start excavation for the ultraviolet light disinfection building.
According to Stellar J Construction the following work has been done:
Aeration Basins-About 80 percent of the foundations for a concrete drain trough have been completed, as well as completion of concrete foundations for drain trough sumps and outlet box sumps. Forming and rebar installation for two of the five slabs are nearing completion, and gang forms for pouring walls are near completion.
Primary Clarifiers-dewatering activities started using existing underdrain systems.
Intermediate pump station-dewatering activities started using newly constructed dewatering wells.
Secondary Clarifiers-Dewatering wells installation is complete.
Post-Aeration Basin-Dewatering activities started using newly constructed dewatering wells.
Ultraviolet Disinfection-Dewatering activities started using newly constructed dewatering wells.
Effluent Pumping Station-Dewatering activities started using newly constructed dewatering wells.
Operations Building-Concrete foundation was completed.
Electrical System Upgrade-Temporary electrical systems were installed for the dewatering wells.
In November there was no activity at the blower building, the gravity belt thickener, ancillary facilities and the SCADA System upgrades.
In addition to Stellar J Construction, subcontractors who have been on site are JNJ Excavation of Sunnyside, Power City Electric of the Tri-Cities and Graham (concrete), BJ Adams (rebar), DMI Drilling and Baer Testing.
The wastewater treatment plant upgrades will include refurbishing two existing primary clarifiers with new internals, a new intermediate pump station, two new aeration basins with blowers, two new secondary clarifiers, new RAS/WAS scum pumping facilities, new post aeration basins, a new ultraviolet light disinfection building, conversion of existing chlorination building into a new gravity belt thickening building, a new plant water pumping station, new operations building, electrical and instrumentation/control work including an emergency generator, new parking, new roads, drainage gates, fencing and landscaping.
.