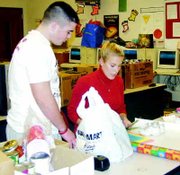 GRANDVIEW - Michelle Swearingen's Grandview High School classroom looked like a warehouse last week.
Boxes full of canned foods, baskets full of health products and wrapped presents lined the floor and tables.
But as soon as the classroom was full, it was empty again, thanks to the Salvation Army.
Students in Grandview at the elementary schools, middle school and high school had been collecting items and presents for five families adpoted for the holidays.
The five families included 32 people ranging from children to adults, said Allison Grow, a junior at GHS and one of the student organizers of the program.
Grow said this is the 10th year the program has been held and students like to get involved and help, however the students never know who the families are because members of those families may be in the high school.
"We don't know the families," Swearingen said.
Each of the families receive a laundry basket of essential items, Grow said, which include things like toilet paper, shampoo, toothpaste and other hygienic products many people take for granted, but some can't afford to buy, Grow said.
Local businesses even donate to the cause. Grow said she didn't know exactly how much all the items collected were valued at, but they're worth "a lot, it's a lot," she said.
All the items aren't necessarily brand new, either, Grow said.
"The things people bring in don't have to be brand new. We take anything that's in good condition," Grow said.
Jeremy Stegeman, a GHS junior, said he enjoys helping with the program because it helps him understand the position some families are in.
"It brings me back again for another year," Stegeman said of helping with the program. "It helps me see that not everybody is as fortunate as I am."
In addition to a basket of essentials, each family also receives a traditional Christmas dinner with all the trimmings.
This year, Welch's even donated a turkey to each of the families, Grow said.
Swearingen said she doesn't do anything to help the students aside from allowing them to keep items in her classroom.
"I don't coordinate it," she said. "I don't tell them how to do it, it's all them."
High school DECA members put the program on as a whole while other clubs help with specific parts of the drive.
The high school's Key Club coordinates the canned food drive at the elementary schools while the high school's drama club runs the toy drive, Grow said.
Students also take individual tags that have wants of a specific family member on them. They purchase the requested item and bring it in to be wrapped.
Last Friday the Salvation Army came and took all the items to distribute them to those families involved in the program.
Grow said the Salvation Army's involvement means students can be assured their items are going to families and not to people who don't need them.
Anything not needed by families is kept by the Salvation Army and given to others who may need it.
In addition to helping families, Swearingen said students who help out with the program get a real sense of accomplishment from knowing they're helping people.
"Kids that haven't done it before really get into it," she said.