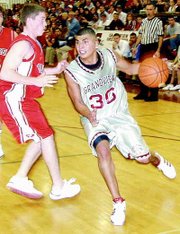 GRANDVIEW - It was the second donnybrook in a week between rivals, only this time Grandview held on in a 52-48 boys basketball victory over Prosser Monday night.
Some how, some way, the Greyhounds avenged last week's loss to the Mustangs, despite shooting less than 30 percent from the field and scoring just one bucket in an eight-minute span.
"I was just like, oh my here we go. We're going to have to win ugly," said Coach Scott Parrish.
Something had to give, though, in order for Grandview to tame the 'Stangs.
And that something was in the paint, where Grandview pulled off an extreme makeover that would make reality TV envious.
In the overtime loss back on Dec. 12, the 'Hounds were outrebounded by more than a two-to-one margin at 54 to 26.
Flash forward a week later and on Monday night the boys became men as they were only outrebounded 49 to 41 by the taller Mustangs.
How much taller?
Grandview has just two players over six-feet. Prosser, a Goliath by comparison, has seven players over six-feet and four of them are 6-3 or taller.
Leading the Greyhounds in cleaning the glass was not a forward or center, but 5-10 point guard James Vela, who clawed and scratched his way for 12 rebounds.
"I can't say enough about James," Parrish said. "For a point guard to come out with that many rebounds is amazing. There were times he was blocking out their biggest player to get the rebound."
But it was Vela's scoring threat and A.J. Valencia's hustle that made the difference late in this one.
Thanks in large part to Prosser defensive pressure, Grandview mustered just a single bucket, sandwiched around seven free throws, in the third stanza.
That put the Mustangs up 37-32 going into the final quarter, as a second Prosser upset seemed looming.
"We talk about overcoming adversity all the time," Parrish said. "At the start of the fourth I told the guys they were going to have to step up."
Grandview stuck to its man-to-man defense and began tightening the vise in the final stanza, outscoring Prosser 6-0 in the first two minutes of the quarter.
Valencia opened the run with three free throws and Vela followed with a charity toss and a lay-up after forcing a Prosser turnover.
The lead changed hands a couple of times before Valencia dribbled baseline for a lay-up to put Grandview up for good at 41-40 with 3:30 to play in the game.
After Tim Schrank hit a free throw to make it a 42-40 game, Valencia hit the floor in a tussle for the ball and came up with the ball and a Prosser foul. Two free throws later, Grandview was in front 44-40 with 2:06 to play.
Prosser, which forced a turnover and hit a trey to force overtime and upset Grandview a week ago, calmly went back down the court and sank two free throws.
With the score again a one possession game, 44-42, Vela brought the ball downcourt to set up Grandview's attack with 1:55 to play in the game.
Vela feinted as if he were going to drive inside, then dribbled back out to the top of the key. As he tapped the ball on the hardwood, seemingly looking for a lane to drive, Prosser took note and moved up to defend.
And then lightning struck.
Vela shot a pass to Schrank, all alone in the paint, for an easy lay-up. Schrank, almost as surprised as the Mustang defenders, put up a shot that bounced off the iron and into the net.
The play was pivotal in deciding the game, giving Grandview a 46-42 lead with a minute to play.
Prosser's Kellen Moore rushed a missed three-point shot attempt that sent the Greyhounds running in transition for an easy bucket by Valencia.
After that it was a matter of hitting free throws and holding on to the ball to preserve the win.
Grandview (4-1) accomplished both to vanquish their rival.
"Prosser made it tough," Parrish said. "They contested everything."
The Greyhounds are off for Christmas and next play Dec. 29-30 at the SunDome tournament.
Prosser 11 7 17 13 - 48
G'View 15 8 9 20 - 52
Grandview: Zavala 3, Artz 6, Andrews 1, Valencia 13, C.J. Lopez 7, Schrank 7, Vela 15.