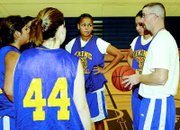 Mike Roettger loves his job. Both of them. The former standout Mabton basketball star works in the farming industry by day and at night he's back on the court coaching the Mabton High girls varsity basketball team.
Born at Fort Lewis, Wa. while his father was in the military, Roettger moved to Mabton when he was one-year-old. He went to the Mabton schools and enjoyed playing sports when he was younger.
This showed as he played on three District Championship teams and played at the State tournament three times. Roettger was selected to the All-State basketball team in 1995.
"My fondest memory from that time is getting to play against players that went on to the NBA," he said. One of those players is Jason Terry, who plays for the Dallas Mavericks now.
After graduating from Mabton in 1995, Roettger went to work for Bill Korstad Farms. He's been working there for the last 10 years.
"I love it, I wouldn't do anything else," Roettger enthuses.
After graduation Roettger also went to YVCC for a year and a half. There he met his wife Angel. They married in 1998 and now have two young girls, ages 3 and 4.
On the farm Roettger spends most of his days driving tractor. The farm produces alfalfa, field corn and Concord grapes. During the summer months Roettger swaths alfalfa, bales it and usually stacks the hay too. He adds he does some irrigating also.
"I like the disparity," he says. "It's something different every day. During the winter I have plenty of time to teach basketball."
Ahh, basketball. His true passion. This is his fifth year of teaching basketball and his second as head coach of the varsity team at Mabton. Roettger started out as the coach of the JV team at Granger. After compiling a 48-12 record there he left to coach at Mabton.
"I was looking for a varsity job and the chance to come home and coach at Mabton was a great opportunity for me."
He's made the most of it so far, as he's amassed an 18-8 record in just over a season at Mabton.
He teaches his team to work hard and be disciplined. "You have to be able to communicate with each other and work with each other," Roettger says. "It's not only in sports, it's a life lesson."
So far he loves coaching at Mabton.
"I've got some great kids," he said. "Finding kids like these is hard. I've got four girls that have received Gates Scholarships. We've got good parents, good support, good school administrators and that makes it fun."
Roettger, who has a self admitted drive for athletics, tells his girls to give it their all.
"I tell my girls to give everything they've got because they will look back on this one day and have regrets if they don't."
He adds that's not just on the basketball floor but also in the classroom, as well.