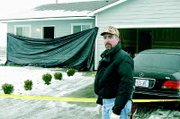 A man was shot to death early this morning in a home in a new housing development in Sunnyside.
At 9 a.m. Sunnyside detectives were still processing the crime scene at 1713 Guernsey Street.
Black plastic draped the front of the house to hide from public view the victim, still lying in the doorway where he apparently was gunned down, although cause of death had not been officially determined by press time.
The owner of the new house is Jose Gomez, who supplied officers with the name of the people to whom he rented it.
"We're not comfortable with that identify. I have reason to question the identify of the victim," said Police Chief Ed Radder, who withheld the name given him by Gomez until he could establish positive identification.
When asked about a woman and baby who apparently also resided at the home, Radder said, "We have no reason to think that they aren't all right."
The victim appeared to be a Hispanic man in his mid-twenties, according to Detective Sgt. Jeff Cunningham, who was one of the three detectives on the scene this morning.
Detectives Jim Ortiz and Jim Orth were searching the yards of 1713 Guernsey and the neighboring new house which does not yet have residents in it.
"We found shell casings on the driveway and there . . .," said Cunningham, gesturing toward the corner of the house where yellow evidence tags had been placed.
"Right now, we're still trying to find the evidence, mark it, start processing the scene and figure it out," said Cunningham.
The homicide was discovered by police this morning after the police dispatcher received a call at 4:01 a.m. reporting gunshots. Three minutes later, Sgt. Preston Kelley and Officer Jaime Prieto arrived at the home on the corner of Guernsey Street and South Hill Road.
"They found the victim lying in the doorway. No one else was there. The officers called the fire department (to send the aid car)," said Cunningham.
According to Sgt. Kelley's preliminary report, a witness reported seeing a dark green SUV, possibly a Navigator, leaving the area.
"We were provided with information that a vehicle left the scene, but we are now hearing other reports that it may have been a different color and possibly a Tahoe. In the next hour or so, we should have that figured out," Radder said at 9:40 a.m. He added that the information the department received came from someone who happened to be in the area, possibly going to work.
"We are developing a list of suspects," Radder said.
As officers continued to work the scene at the home, a slight breeze fluttered the yellow crime scene tape surrounding the house and caused the black plastic over the doorway to billow slightly. The top of a decorated Christmas tree seen beyond the plastic was an ironic contrast to the grim scene.