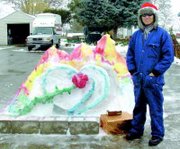 For Jon Esqueda, the seven to eight hours it took him to construct the snow sculpture in front of his South First Street home was a labor of love - literally.
The 50-year-old Sunnyside man is continuing a tradition he started during the mad cow disease scare.
Esqueda originally started building snow sculptures two years ago. His first sculpture was a crazy cow, symbolic of the mad cow scare, which started in Mabton.
Last year, Esqueda constructed a big teddy bear, continuing his animal theme.
But this year called for something distinct.
"This year I thought I'd do something a little different," he said.
What he did was construct what he called a large Christmas card.
"This is a Christmas card for the girl I love but can't be with," he said.
He declined to go into detail about what that meant, though.
Esqueda's sculpture is more than four feet tall, and has intricate details carved into the block of snow.
It's also colorful.
The snow is tinted with food coloring, Esqueda said, to give it a better look.
And after what he went through to build it, the look is important.
Esqueda built a makeshift plow to put on the front of a riding lawnmower to push enough snow together to create the sculpture.
He then had to pile more snow on top using a shovel.
Esqueda said his work attracted the attention of passersby who were curious about what he was doing.
Esqueda said he likes to work in the dark. That way people will see his work when the drive by in the morning, he said.
"The public really loves it and I just love doing it for them," Esqueda said.