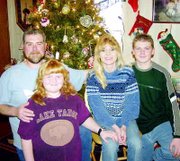 One day you're caught up in the rush of balancing a working career with being wife to a husband of 14 years and mother to a 10-year-old daughter and a Boy Scout of 13, and then an unwelcome surprise hits you like a bolt out of the blue.
That's the way it was for Lynn Walker, the blonde whose familiar face has been seen for 16 years at the Sunnyside Safeway store where she was video manager until Nov. 12.
"I'd been having weakness in my left leg, and when I went to the doctor in Yakima Nov. 1, he told me it might be Lou Gehrig's Disease, but he wasn't sure," said Walker. "He wanted me to go to Virginia Mason Hospital in Seattle on the 16th."
That's where the woman, who turned 40 on Nov. 23 between more doctor's visits, received the definitive word: Lou Gehrig's Disease.
"I had to ask my doctor about it, what it was," said Lynn, who said she had probably heard of the disease but had no real information about it."
From her doctors, she learned that Lou Gehrig's Disease (ALS) is a progressive deterioration of neurological functions, resulting in a loss of muscle coordination.
"We were told that basically the outcome depends on the patient," said her husband, Rodney. "We're told the doctor we've got is the best in the business, and he told us that some (patients) are taken right away and others might hit a plateau and stay there for 15 years. We keep our trust in God."
"You accept it and go on with life, stay healthy and not get down," said Lynn.
"It's been a bombshell. I'm not going to lie about it," said Rodney. "But there's some good in it, too. I tell her she's not the only one living with it; we all are. We're just learning to live with it and enjoying our time together."
"I miss working and all the employees I worked with and the customers who were friends of mine," said Lynn, "but I'm enjoying my life now, being at home, having time for my kids and watching them grow up. I always was working when they were babies."
She said she has already drawn closer to her 13-year-old son James, a Boy Scout whose Scout Christmas party the family was getting ready to attend Tuesday of this week.
"Before, I always felt rushed, rushing here, rushing there. I don't know, I'm just enjoying being home, being closer to my kids. I'm not worrying about anything," said Lynn.
James says having mom home is a good thing. Amber, age 10, agrees.
"It's a good thing she's home more, but it's a sad thing she got sick. She decorated the tree and she's here to make me feel better about it and she's here to help me...when I'm crying," said Amber, leaning into her mom and letting the tears fall.
While a 10-year-old's tears may not be held back and other eyes in the household might glisten from time to time, the general attitude in the Walker household is one of hope.
"We do get to spend more time together, and it's just unreal how I enjoy the time with her," said Rodney.
"And before I felt rushed all the time and now it's slow...slowed down where we can enjoy it," said Lynn.
Although hesitant to discuss the financial situation in their trailer home in Grandview, Rodney admitted that "It's tight, very tight. We're slipping behind on bills." But he added, "God will take care of us. He always has. He's proven himself to us."
"And I was really lucky to have worked for a good company," said Lynn. "My disability retirement from Safeway and from social security will start in May and that's going to help quite a bit. My medical insurance from Safeway for me and my family will go on for six months and after that I'll have Medicare for myself."
What the Walker family won't have is extra cash.
And that's where James' Assistant Scout Master, Tim Bardell, enters the picture.
"We've set up a donation account at US Bank in Lynn Walker's name to help fund a special dream trip for Lynn and her family," said Bardell.
"Already Lynn needs the use of a cane and finds herself extremely tired. We would like to help her husband Rodney and children James and Amber plan and fund a special family trip some time in the next month or two," said Bardell.
Lynn said the family's last vacation was a four-day camping trip to Idaho six years ago.
"We haven't even had a honeymoon!," said Rodney, pointing out that their 14th wedding anniversary was Tuesday, Dec. 20.
When told about Bardell's plan, Lynn said she thought it "was wonderful", and her trip choice would be to Apache Junction, Arizona, a place her grandparents and father went every year on vacation.
Lynn said her father took her to Apache Junction when she wasn't yet two years old. She has a picture of him holding her on his shoulder with the desert of Arizona spreading out behind them.
"He always says he wants to take me back to Apache Junction and put me on his shoulder again," said Lynn.
Although she isn't pinning her dreams on Bardell's plan, Lynn said she expects her dad, who is 68, would probably trek along with them, if funds do become available for that trip to Apache Junction.
Bardell said he or his wife, Anna, would even come to pick up donations for those who don't want to venture out into the wintry weather to take them to a US Bank. They can be reached at 509-8937-8600 or 509-837-7383.