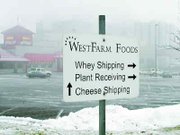 WestFarm Foods, site of Darigold's Dairy Fair on Alexander Road, will expand cheese production at its plant in the new year.
Scott Burleson, Director of the Ingredient Division for WestFarm, said the expansion will convert more of the milk produced in the Yakima Valley into cheese at the Sunnyside facility.
"We are currently in the process of upgrading and expanding the cheese manufacturing capacity by approximately 10 percent," said Burleson.
He added that the project will also include modifications to the whey processing portion of the operation to provide more flexibility in the types of whey products that the plant is capable of producing.
Burleson said the most visible part of the expansion will be the installation of two 60,000 gallon capacity silos and three 30,000 gallon silos.
Other modifications will be centered around the cheese towers that are utilized to produce 40-lb. blocks of cheese. Those changes will increase the speed in which the blocks are produced and packaged.
Modifications in the whey processing facility will provide the capability to produce whey protein products that have greater value, Burleson explained.
"This will be accomplished with the installation of a system that will allow us to apportion the whey into different product blends," he said.
The Sunnyside expansion will be phased in from January 2006 through August 2006.
"Given the volume of milk that is processed on a daily basis, it is very important that we take a very carefully planned approach to implementing changes to the current process," Burleson noted. "We have excellent employees in the Sunnyside facility and I am very confident that they are up to the challenge of the upcoming changes."
Speaking of employees, the expansion in cheese production will mean more jobs at the WestFarm Foods plant.
"The exact number of new positions has yet to be determined since we are still reviewing proposals from vendors (related to the expansion), as well as reviewing the placement of proposed equipment," said Burleson.
Since WestFarm is still reviewing proposals from equipment suppliers, Burleson said the total cost of the project is not yet known.