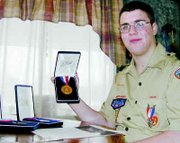 The Sunnyside's Promise wagon has been making the rounds this fall and winter.
During football season it visited Clem Senn Field to received donated clothing and food items for those in need. Just the other day it stopped off at Outlook School to haul off more than 4,500 canned food items.
It's making a difference, and so is the young man who created it, Daniel Mendoza of Sunnyside.
Mendoza, 18, received scouting's highest honor on Saturday, Dec. 17, when he was named an Eagle Scout.
He actually merited the award this past August when, with help from Sunnyside High School welding students, the larger-than-life Sunnyside's Promise wagon was completed for his Eagle Scout project.
Work wrapped up on the wagon just a week before his 18th birthday, the cut-off to turn in an Eagle Scout project.
"I was a little worried, it was close," he said with a smile.
The Eagle Scout award is just the latest in a series of honors for Mendoza, now home on winter break from Ohio State.
He donated hundreds of hours during six years of fundraising efforts to construct a skate park in Sunnyside. That netted him the gold, silver and bronze Congressional awards.
The silver merited a personal visit from Congressman Doc Hastings while Mendoza was in class at Sunnyside High School during his junior year. As a senior, the gold earned him a trip to Washington D.C. to receive the award.
All of that is in addition to the Prudential Spirit of Community Award he earned for his service.
But his efforts on behalf of the skate park, which will be built next year by the city of Sunnyside, did not stem from a desire for awards.
"I've always been willing to help others and I learned that through scouting," Mendoza said. "When someone asks me to do something I have a hard time saying no. After that I become determined to not quit and see it through."
Even though he has reached scouting's highest level, he still remains active as both a Venture scout, ages 14-21 are eligible, and by helping others earn their Eagle Scout standing.
Mendoza said he was excited to hear of the skate park finally getting off the ground, and thought it was "cool" that the big wagon is still making the rounds and helping people.
"Mom (Debbie) sends me clippings about the wagon and I think it's really cool that the work I've done is helping other people," he said. "She told me that people will pull off the highway to stop and look at the wagon."
But just because he's away majoring in business at Ohio State University-"I'm really happy there, I love the programs and the diversity of students," he said-don't think that Mendoza has forgotten community projects.
"We're all away on break right now," he said of the residence hall he lives at on the Buckeye campus. "But when we get back we're going to think of some fundraising things we can do."
And what would he say to others thinking of taking up scouting or a community service project?
"Just don't give up. There are a lot of times when you see that what you want seems improbable," he advised. "But keep working at it. It's difficult going at times, but once you're there it will feel really great."
.