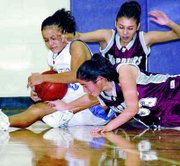 MABTON - The Mabton High School girls basketball team, out of action for 11 days, used the down time to refine its defensive play and communication skills.
The 11 straight days of practice paid off in a big way last night, as the Lady Vikings rolled over the visiting Wahluke Warriors, 58-29.
"We're getting better," said Mabton Coach Mike Roettger.
Better, indeed, considering his Lady Vikes only defeated Wahluke by a 47-41 score just two weeks ago.
Last night's non-league victory boosted the Mabton girls' overall record on the season to 6-1. The Lady Vikes now face another week of down time, as their next scheduled competition isn't until next Thursday, Dec. 29, at home against Yakama Tribal.
In besting Wahluke last night, Mabton received double-digit scoring from senior Alida Mendoza and freshman Trishi Williams. Mendoza pumped in a game high 18 points, with the underclassman Williams adding 12.
Mabton also got a strong performance from Erica Sanchez. The 5'6" senior guard tossed in 7 points and snagged a team high 10 rebounds. Also coming through big for the Lady Vikes was freshman guard Ana Jimenez, who chipped in with 9 points.
Wahluke's top scorer was 5'9" senior Michelle Jensen, who canned 14 points.
Mabton opened a 15-2 first quarter lead on the Warriors, extending its advantage to 34-8 at the half. Any doubt as to who the winner would be was erased when the Lady Vikes outscored Wahluke by a 19-8 margin in the third quarter.
"We came out and played the way we're capable of playing," Roettger said.
"We're definitely improving.
"Even our younger players. I went with four freshmen and one sophomore in the fourth quarter, and they only got outscored 13-10 by Wahluke's starters," he added.
Wahluke 2 6 8 13 -29
Mabton 15 19 19 10 -58
Mabton: Debbie Enriquez 7, Kayla Campbell 1, Alida Mendoza 18, Jessica Mendoza 0, Erica Sanchez 7, Ana Jimenez 9, Anna Montelongo 2, Trishi Williams 12, Adriana Cardenas 0, Regina Palomarez 2.