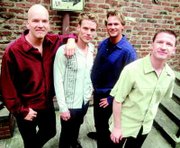 The second of five performers in the 2005-06 Lower Valley Community Concert series will take center stage at the Sunnyside High School auditorium Tuesday, Jan. 10.
The Coats, an a capella vocal ensemble, are headed to town and, if they live up to their billing, will leave concert goers thoroughly satisfied. The four-man musical group has been nominated for an INDIE award and is commonly recognized as the most requested college act in the country.
The group has made recordings for such hit television shows as Frasier and The Jenny Jones Show. The Coats have also performed on stage with such groups as The Beach Boys and Hall & Oates.
As many listeners have said, "You just can't believe what they do with their voices."
The Tuesday, Jan. 10, concert is set to begin at 7:30 p.m. Earlier that day the group will present an encore for Sunnyside area students.
The doors to the auditorium will open that evening at 7 p.m. Those who don't have a season membership will be able to purchase a single ticket for that night's performance, priced at $25.
Season memberships can also be purchased that evening, at a cost of $40 for adults, $15 for students and $85 for families.
The 2005-06 Lower Valley Community Concert series will also include performances on Feb. 21, by internationally acclaimed organist Hector Olivera; on March 11, by acoustic guitarist Edgar Cruz; and on April 23, by multi-instrumentalist Todd Green.