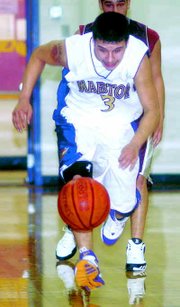 MABTON - On a night when Mabton's offense was sputtering and making costly turnovers, the Mabton defense stepped up and allowed the Vikings to come away with a 45-43 victory over the Wahluke Warriors last night.
Facing the Warriors' swarming defense, Mabton clung to a one point lead after one quarter. In the second quarter the turnovers started to come and Wahluke got some easy baskets.
"Twelve of Wahluke's first half points came directly from our turnovers," Mabton Coach Brock Ledgerwood said.
The turnovers and poor 26 percent shooting from the floor allowed the Warriors to take a seven-point lead at halftime.
"Our kids have got to do a better job of handling pressure and taking care of the basketball," Ledgerwood said.
In the second half Mabton started to handle Wahluke's defensive pressure a little better. With the help of a strong defense the Vikings were able to chip away at Wahluke's lead and were only down by two points to start the fourth quarter.
"In the fourth quarter our defense did a great job of not giving them any good looks at the basket," Ledgerwood said.
The Vikings led by four points with just over a minute left in the game when things started to get sloppy. Mabton turned the ball over three times and missed the front end of a one-and-one.
Mabton was still up by two points with 27 seconds left, when Wahluke's Martin Ramirez, the Warriors' best shooter, missed an 18-foot jump shot. Mabton snagged the rebound with four seconds left and walked away with a hard fought win.
"Pedro Huecias did an outstanding job defensively, holding Wahluke's leading scorer, Martin, to two points," said Ledgerwood.
Ramirez only had two good looks all night and only scored two points, well below his season average.
Alex Zavala led the Vikings with 19 points and 8 rebounds. Andy Rodriguez had 12 points (10 in the second half), 6 rebounds and 6 steals. Eric Tellez put up 6 points and grabbed 8 rebounds for the night.
Sigi Pulido led the Warriors with 15 points and Hunter Contreras added 11 points.
"I was happy we were able to come out and go at them," Ledgerwood said. "It's also nice to beat a team that had your number and beat you earlier in the year."
"We were much smaller but we aggressively attacked the glass and beat them up on the boards," added Ledgerwood.
Mabton (1-0, 6-2) will play Yakama Tribal next Thursday in a home game.
.