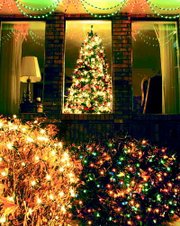 Does Sunnyside have enough recreational demand for an RV Park?
The Port of Sunnyside intends to find out with its second RV feasibility study in five years.
"There has been over time a lot of thought and discussion that Sunnyside may need a quality RV park," said Port Commissioner Jeff Matson.
"We did a study in 2000 or 2001 that some developers were actually able to use in looking at a possible private development," Matson added.
That development has yet to take shape and the Port is commissioning a second study, at a cost of $4,500, to stay in the know on the latest RV developments and demand in the area.
"The study we have is old enough that it needs to be updated to reflect new competition within the Valley," Matson explained.
He noted, for example, that the Prosser RV Park was not yet complete at the time of the previous study.
Other factors to be updated in the new study are the supply and amenities offered at current RV spaces, changes in fuel prices and travel habits and projected consumer demand.
"If we're involved in getting one (an RV park) put up, we have to make sure there are enough people to use it and pay for it," said Commissioner Arnold Martin.
The new study, set to begin early next year, could also help in securing funding for an RV Park.
"When you're trying to get financing for a project, a four or five year-old feasibility study isn't as attractive," Matson noted.
If the study shows that an RV park would fly in Sunnyside, then Matson said an option would be to pursue financing that could be funded by proceeds from the RV park.
Martin said if an RV park is created, it will not be used for long term housing, but for motorists traveling on vacation or people in town on a temporary construction project.
The real benefit of an RV park to Sunnyside, Martin observed, is in the ripple effect for the local economy. "If people stop they spend money, and that's good for the other businesses."
.