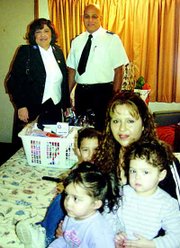 When her mobile home was completely destroyed in an unexplained fire in Sunnyside Nov. 26, Cynthia Fernandez went into survival mode instead of moving into what was to be her new home.
Fernandez hadn't spent one night in the home that was being moved into a mobile home park at 402 Maple Avenue in Sunnyside on that Saturday afternoon.
A fire that blazed up in the home's den before the power and water were turned on left Sunnyside firefighters puzzling over the cause. At the time, Sgt. Joe Guillen, the investigating police officer, said his department was attempting to locate possible witnesses or suspects after kids were seen leaving the area.
Whether it was arson or a freak accident that stole her home away, it left Fernandez, a single mother, and her four children homeless.
Today, she and her family are cooped up in a small motel room in Sunnyside, and glad to have the shelter.
The first three nights at the motel were provided as a temporary measure by the American Red Cross. Then the Salvation Army, based in Grandview, stepped in to provide Fernandez with a month's free lodging.
Last Friday, the Salvation Army made a visit to Fernandez, this time bringing her a load of Christmas cheer. Boxes of food, beautifully wrapped Christmas gifts and a handful of gift certificates were turned over from Laura and Roberto Matus of the Salvation Army to Fernandez and three of her children who were at 'home'.
Fernandez was also given the surprising news that she and her children had been 'adopted' by a Prosser family who, wanting to remain anonymous, had sent this heap of good tidings to her via the Matuses. The Salvation Army also plumped out the Prosser family's gifts with a few gift certificates of its own and one of the more than 300 Christmas food boxes it distributed this season.
The young mother, a lifelong resident of Sunnyside, seemed stunned by the wealth of TLC that came her way last Friday, receiving the news and gifts with a stoic, unsmiling face, but then with tears sliding down her cheeks.
"My main, main, main concern now is to find a job," said Fernandez, who has been trained in clerical work and as an assistant case manager. She was working part-time under a contract with Sunnyside Work Force when the fire and also illness disrupted her life.
"I got ill and couldn't work, so my case manager said to set my priorities and get situated and then we'd see. So my contract was terminated, and now there's no income and I'm looking for work," said Fernandez, who has her application in at seven places from whom she has yet to hear.